Art Graduates Handpicked For London Exhibition
08/02/2007 10:36:00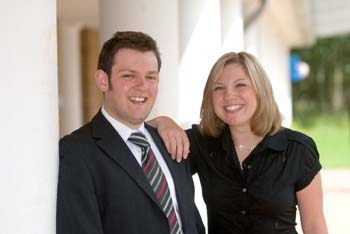 Matthew Cross and Kate Parkinson
Three art graduates from Lancaster have been chosen to exhibit at the prestigious Northern Graduates' exhibition in London.
Kate Parkinson, Matthew Cross and Kath McDonald are among a handful of Fine Art graduates from across the North who have been asked to exhibit this summer at the Curwen and New Academy Gallery in London. Their work was spotted by gallery curator Henry Walsh on a visit to the Lancaster Institute for the Contemporary Arts (LICA) final year degree show at the Peter Scott Gallery on campus.
He said LICA:Art had staged a fantastic exhibition this year.
"Selecting just a handful of artists from so many degree shows is always a challenge. This show cannot possibly contain the breadth of creativity that is being produced by the Northern Schools, however I would hope it acts as a good reflection of the quality and variety available in the region."
Kate Parkinson said she was delighted to have been chosen.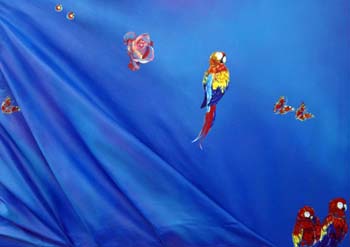 Blue Far by Kate Parkinson
She said: "It's just an excellent opportunity and I'm hoping it will have a huge impact on how my career might develop. I'm hoping that people in London will see my work and it will expose it to a wider audience. It will be a catalyst for the work to come and ignite other opportunities."
Matthew said: "It's great to realise that someone from outside can recognise the potential of what I'm doing. I couldn't believe I'd been chosen because you're working by yourself and it's hard to see how others view what you're doing."
Kath McDonald is already exhibiting at Leicester City Art Gallery and this will be her second exhibition since graduating this summer.
"I never dreamt my paintings would be exhibited in London which is great for my CV when this is still a new experience and I'm finding my feet as an artist. London is the sort of place where people are likely to be interested so it's wonderful."
Tutor Emma Rose, who is Associated Director of Research and Enterprise at LICA:Art said being chosen for the exhibition was a real career boost.
She said: "It's extremely good because it gives them wider exposure within London galleries and professional spheres. It's a platform to connect and network within the art world and it's a way of making the transition from student to professional artist."
Both Kate and Matthew aim to become professional artists, although neither is planning a move to London.
Kate said: "There's such a lot going on the North-West with lots more galleries than there used to be so it's not automatic that you have to go to London anymore, though it's great to get your work exhibited there."
The Northern Graduates Exhibition began in 1988 in order to showcase work from degree shows outside London.
Henry Walsh said: "The North of England was immediately highlighted as a particularly vibrant area for innovative artists working in interesting, experimental ways, and 'Northern Graduates' has provided an annual forum to show their work to a London audience ever since."
The exhibition runs until August 22.