Chancellor Backs Charity Challenge
03/29/2007 15:21:12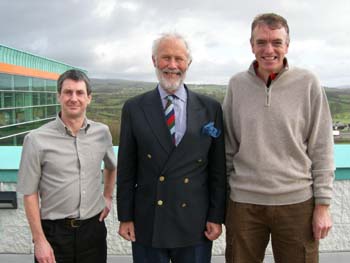 from left:John Statter, Sir Christian Bonington and Ian Mercer
Sir Christian Bonington has given his backing to two members of staff at Lancaster University who aim to climb the three highest mountains in Britain within three days.
The University Chancellor is sponsoring Ian Mercer and John Statter, who not only plan to climb Ben Nevis in Scotland (1344 metres), Scafell Pike in the Lake District (977m) and Snowdon in Wales (1085m) but also aim to cycle the 460 miles between the three peaks.
The charity challenge this May is to raise funds for the Coronary Care Appeal at the Royal Lancaster Infirmary.
Sir Christian said he had been impressed by the dedication of the two technicians, who both work in the Physics Department.
He said: "I wish Ian Mercer and John Statter the very best of good fortune in their challenging undertaking. Climbing Snowdon, Scafell and Ben Nevis, cycling in between, all in the space of three days, is a huge undertaking, but having talked to them, I have seen the thoroughness of their preparations and training and believe they have a very good chance of success."
As one of the world's most successful mountaineers, Sir Christian has taken part in nineteen expeditions to the Himalayas including four to Mount Everest and the first ascent of the south face of Annapurna.
He has been Chancellor of Lancaster University since 2005, where he is also Honorary President of the University Hiking Club.
Both men said meeting Sir Christian had boosted their morale.
Ian said: "It was brilliant to have his backing, he was really interested and he gave us lots of good advice on how to climb all three mountains. It's a real boost to have someone so supportive and keen to help and he was telling us about his expeditions too which was fascinating."
Both Ian and John are already extremely fit. Ian, who is a member of Lancaster and Morecambe Athletics Club, has completed the London Marathon twice and the Yorkshire 'Three Peaks' fell race three years in a row. John has completed two coast-to-coast cycle trips as well as over 4,000 miles in training over the last two years.
The Three Peaks challenge, starting on May 18, has taken two years of planning. Anyone who wishes to sponsor them should contact Ian Mercer at i.mercer@lancaster.ac.uk or j.statter@lancaster.ac.uk.
www.lancs.ac.uk/staff/merceri/pages/home.html