Head of HEFCE opens £8.3m teaching space
12/03/2007 17:24:56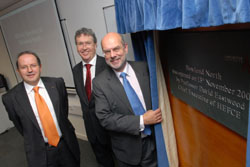 Professor Tony Gatrell, Dean of the Faculty of Arts and Social Sciences, Professor Paul Wellings, Vice-Chancellor and Professor David Eastwood
The Chief Executive of the Higher Education Funding Council for England Professor David Eastwood visited the University this month to open the £8.3m Bowland North teaching facilities.
The refurbishment of Bowland North is part of the massive building programme across campus to improve teaching, residential and social facilities for students.
Professor Eastwood was shown other student developments such as the new 'eco- friendly' residences.
Professor Eastwood gave a public lecture on challenges and opportunities in Higher Education before unveiling a plaque to officially open Bowland North, which was part-funded with £6.3m from HEFCE.
Among the 50 guests at the event were the Chief Executive of the North West Development Agency Steve Broomhead and HEFCE's North West Regional Director Roger Lewis.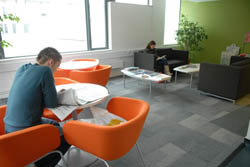 The modernisation of Bowland North has delivered 200 offices and ancillary space for six departments – Law, Religious Studies, the Department of European Languages and Cultures, Innovation and Enterprise, Applied Social Science and Sociology. The design includes meeting spaces where staff can meet informally with colleagues, an important aspect of departmental life.
There will be 27 seminar rooms with state-of-the-art teaching equipment and modern furniture and décor. There are also two computer labs with audio visual equipment and interactive whiteboards to improve the student learning experience.
Even the corridors now have a modern, airy feel with sofas where people can look onto a newly landscape courtyard with grass and shrubs.
The whole building has been made fully accessible to the disabled, and been double glazed throughout in order to improve energy efficiency. It has also been re-serviced in terms of heating, wiring and data cabling. The project is to be awarded a BREEAM (Building Research Establishment Environmental Assessment Methodology) Very Good achievement which is the University target for refurbishments.