Lancaster Pioneers Recycling Project
09/21/2007 10:19:33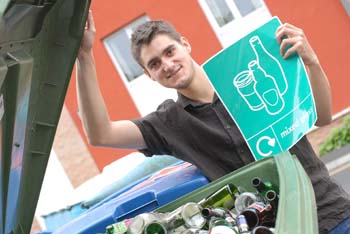 Environmental Co-ordinator Tom Roberts
Lancaster is the first university in the UK to pilot a recycling project in co-operation with a national environmental organisation.
The ten week schemes are being piloted at County, Furness and Fylde Colleges and if successful will be rolled out across campus.
Run in partnership with Lancaster City Council, Green Lancaster and the Waste and Resources Action Programme (WRAP), the scheme will look at two alternatives for recycling on campus: a doorstep collection service run at County Main; and a do-it-yourself at Furness and Fylde where students will go head to head in competition. The scheme stems from consultation with staff and students.
County College will hire two student Recycling Officers who will help undertake the twice-weekly transfers. Green Lancaster is working to ensure posters, kitchen bins and waste compounds are clearly labelled. The student recycling facilities are being improved to include from outside the student kitchens to the central site from where collections are made. Posters and bin stickers will explain to the students what to rinse and recycle, where to present it on collection day and how it will make a difference. Mixed glass, plastic bottles, and cardboard are among the items which can be recycled.
The second scheme, at both Furness and Fylde Colleges will take advantage of inter-collegiate rivalry by pitting each college against each other in a race to rinse and recycle the most. The winning college will receive a prize donated by Estates.
The kitchens which recycle the most will be given prizes. Students will be asked to remove and sort out their recycling from the kitchens and, as with the County College trial, Lancaster City Council will weigh the amount of recycling at each weekly collection.
The University's environmental co-ordinator Tom Roberts said the existing 1,100 litre waste bins are to be relabelled using clearer iconography.
He said: "It's about making it easier for everyone to recycle, for students and staff alike. We need to ensure that facilities are better placed so that barstaff can recycle by strategically placing the bins nearer to bars and allowing mixed glass so it doesn't have to be separated.
"These pilot schemes send out a clear message to students and staff that at Lancaster University people are expected to do their bit for the environment."
Joshua Sharman from WRAP said: "This is a really exciting move by Lancaster University. The fact that the pilot trial in County College will put students at the absolute heart of its scheme, rewarding the keenest of recyclers by officially taking them on as recycling ambassadors and making the process of recycling as easy as possible for students with other priorities, is truly pioneering."
Results from the pilot schemes are due in January.