Experts assess the spread of nuclear power at Lancaster's new Nuclear Engineering Lab
07/16/2010 00:00:00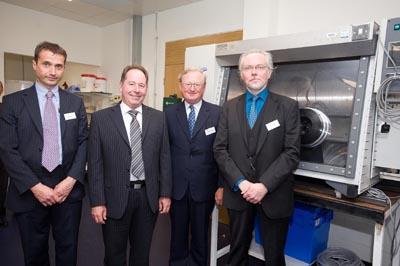 L – R Professor Malcolm Joyce, Head of Engineering, Michael Franklin, Director of The LRET, The LRET Trustee Mr Peter Chrismas and Professor Colin Boxhall, The LRET Chair in Nuclear Engineering and Decommissioning
A new chemistry laboratory which will be used to research novel science and technologies to assist nuclear decommissioning and the development of new nuclear power, was officially opened on the 14th July , marked by a special event which brought together leading Nuclear experts to discuss ways to prevent the spread of nuclear weapons.
The Lloyd's Register Educational Trust (The LRET) Nuclear Engineering Laboratory was opened by The LRET Trustee Mr Peter Chrismas. Funded by The LRET, a partner and funder of nuclear research at Lancaster, the Lab will be used for research which aims to improve the UK's clean-up and recycling of nuclear fuel. The results of non-radioactive nuclear separation simulation experiments in the new lab will be the precursor to future active experiments off campus.
"Michael Franklin, Director of The LRET said: "The research sector is very important to The LRET. In the last three years we've committed £20 million around the world to support fundamental engineering/science research. When we agreed to support The LRET chair in Nuclear Engineering and Decommissioning at Lancaster University it was the first time we had invested in research outside the marine and offshore industry and it established a very important trend for us. We are increasingly looking towards working with institutes around the world who are interested in collaborative research."
The University's network of energy specialists , Energy Lancaster , hosted the one day symposium - "The Nuclear Renaissance and its implications for Nuclear Non-Proliferation"-where speakers - including Dame Sue Ion (Royal Academy of Engineering), Professor Richard Clegg (The National Nuclear Centre of Excellence), Dr Robin Taylor and Dr Kevin Hesketh (The National Nuclear Laboratory) and Dr Neil Smart (Radioactive Waste Management Directorate, Nuclear Decommissioning Authority) - assessed the risks of nuclear technology being diverted to create weapons, and how the industry could prevent this in light of the spread of nuclear power as an energy source.
Professor Colin Boxall , The LRET Chair in Nuclear Engineering and Decommissioning said:
"We aim to support the future research and training needs of the UK's nuclear industry, including the key area of risk associated with contamination and the high hazard legacies found at a wide range of nuclear licensed sites across the UK - some of which constitute the biggest sites of diverse risk management in the world."