Official Opening of Learning Zone
01/15/2010 12:39:10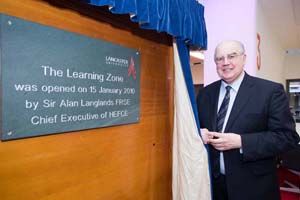 Sir Alan Langlands officially opens the Learning Zone
The £2.5m Learning Zone has been officially opened by Sir Alan Langlands FRSE, Chief Executive of HEFCE, who said he was pleased to celebrate the University's "latest success".
Sir Alan unveiled a plaque before 70 guests inside the Learning Zone, which provides an open plan space for students to study 24/7.
He said: "I see this as a University that is fizzing with innovative ideas and which is very conscious of its responsibilities towards students with this high quality Learning Zone. What is especially well done is the combination of access to online resources backed by highly motivated teaching staff and students and this is a spectacular example of this."
He also praised the sound financial management of the University, which has seen over £300m invested into the development of the campus.
Professor Amanda Chetwynd, Pro Vice-Chancellor for the Colleges and the Student Experience said the Learning Zone had been developed in partnership with students from the start.
"Students told us that we have good quiet spaces but they would like places where they could work in groups, areas to practise presentations, where they could work with a cup of coffee, with comfortable seating and wifi - and so we set up a group to design just such a space."
LUSU President Michael Payne said the zone was exactly what students wanted.
"A 24/7 flexible space where students can study, socialise and relax is a massive welcome and it puts students right at the heart of campus and shows that the University is investing in their experience."
One of the Student Ambassadors, second year Computer Science undergraduate Jareth Disley, said he worked up to 10 hours a week in the Zone.
"It's rewarding to help out people when they have problems with their laptop for example, and it also gives me some experience which is good for future employers."
The Zone has booths for individual learning and a range of informal working spaces for small groups. Pods are bookable for meetings, presentations or group work, and other facilities include Apple Macintosh computers, colour printers, interactive white boards and data projectors.