Computer 'glue' unlocks next-generation technology
02/28/2007 16:06:00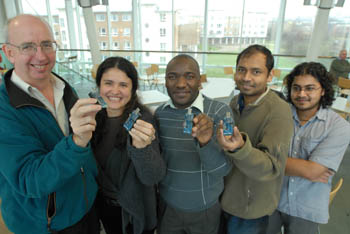 from L - Professor Gordon Blair with fellow RUNES Researchers
Researchers at Lancaster University are working on new technology which will help give computers a powerful new presence in our lives.
Computing experts at Lancaster are working on the next generation of embedded systems – tiny interactive devices which can be implanted into anything from a car to a fireman's safety jacket.
Embedded systems are already in use in appliances such as mobile phones and smoke alarms. But researchers are now looking for ways to enable these embedded systems to communicate with one another without human intervention. Enabling these systems to co-operate opens up infinite new areas of applications in settings ranging from health care and emergency services to workplaces and homes.
Lancaster University is carrying out this research as part of the RUNES project – a huge Europe-wide research programme which is developing Reconfigurable Ubiquitous Networked Embedded Systems.
One of the key aims of the project has been to develop middleware – the 'glue' which links together two or more different types of software. The middleware being developed as part of this project is strongly influenced by pioneering technology first developed at Lancaster University.
Professor Gordon Blair, Head of Computing at Lancaster, said: "Embedded systems which can interact with their environment have a huge potential to change the way we live but, equally, there are a significant number of technical challenges to be overcome before the full potential of this technology can be realised including managing potentially large numbers of diverse, small-scale components, getting them to talk to each other and also integrating them with other services in the Internet. Middleware has a crucial role to play in overcoming this complexity and the component based middleware which we are developing at Lancaster is recognised as a significant contribution towards achieving such next generation computer systems."
The RUNES consortium is made up of a broad, global mix of 21 industrial and academic partners from nine countries. The consortium has the expertise to carry out highly innovative research and development in this exciting new world of networked embedded systems. Lancaster University is one of three UK partners along with Kodak Ltd and University College London.
The Lancaster research team is: Professor Gordon Blair; Professor Geoff Coulson; Dr Paul Okanda; Thirunavukkarasu Sivaharan; Nelly Bencomo; Nirmal Weerasinghe.
Lancaster University's Computing Department is based in InfoLab21 - the University's world-class research, development and business centre in Information and Communication Technologies (ICT).