Lancaster art students transform showroom for Jaguar car launch
05/31/2001 16:46:21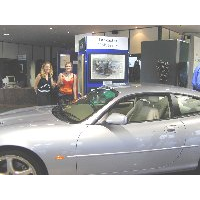 Students from Lancaster University's Art Department exhibited some creative pieces of work to the public for the first time as part of the celebrated launch of the new Jaguar X-TYPE car. The launch, in May, showed off artwork at the Dutton-Forshaw dealership in Preston.
Students Deborah Pearce, Lynda Gray, Lucy Mersh and Claire McCowen donated artwork to exhibit. Gerry Davies, Head of Art Department said, 'we were keen to get involved when we heard about Dutton-Forshaw's plans and especially pleased to be donating such fine examples of our work. The work on display is a representative sample by final year students. We encourage our students to find their own individual voice and I think that the artwork we'll be exhibiting reflects that.'
A representative from Dutton's said, 'I'm delighted we've had this opportunity to display such a diverse range of local artwork. All the exhibits compliment the star of the show, the new X-TYPE, beautifully!'
The launch week also included showcases from other institutes in Preston and surrounding areas.
For those of you wishing to view some of Lancaster's creative artworks, there will be another exhibition by final year students starting 20-27 June 2001 at the Peter Scott Gallery and Art Department Studios - with an opportunity to purchase original pieces of artwork at reasonable prices.