Women Writers in Uganda Mentored by Lancaster University
11/25/2010 11:44:35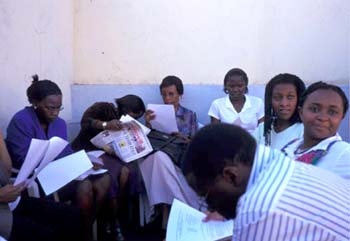 A meeting of the Ugandan women's writing group Femrite
Women writers in Africa are being mentored online by Lancaster University in a new literary and cultural exchange.
The Centre for Transcultural Writing and Research has begun a six-month programme linking Ugandan authors with experienced postgraduate mentors. Funded with £5,000 from the Friends Fund, the project involves twelve female writers sending monthly assignments to four postgraduates from the University.
The Director of the Centre Dr Graham Mort said: "We want to give the postgraduates a wider experience of teaching and to develop the writing of the Ugandans by connecting them to a diverse contemporary writing culture in English.
"We can give them a broader awareness of how English is used beyond Uganda since they are interested in reaching wider audiences. What's inspiring about the project is their belief that literature is important as a means of developing society and changing it. They're often addressing profound social problems in their work and it's humbling to see what African writers are dealing with on a daily basis."
The writers have joined the project through the Ugandan women's writing group Femrite. Hilda Twongyeirwe from Femrite said women often did not have as much time to write as men.
"Unlike men, when women are not at work, they are looking after the children and taking care of the home and family. It is not easy to create time to write. Such a structured project forces them to create time.
"Another important reason why we need such projects as women is that most of the time women do not have the confidence that they can write as competently as the men. This project helps to build the participants' confidence and it encourages them to write.
"By the end of the project each of the participants is going to have a collection of stories or poems they have worked or even a novel manuscript. Without the project that would not be possible."
As well as an anthology of work online, the project will provide research findings for the Centre and for the four mentors, who are postgraduates from the distance learning PhD programme run by the Department of English and Creative Writing. Their own backgrounds range from the UK, Nigeria and Ireland to the Bahamas.
Dr Mort said: "This project can help the postgraduates look at writing in English in a different cultural context. There's been a surge in applications from overseas at PhD level because of Lancaster's expertise in transcultural research. It's an exchange which can benefit both parties in a globalised literary environment."