Lancaster Professor Applauded for Lifetime Achievement
10/22/2007 16:17:31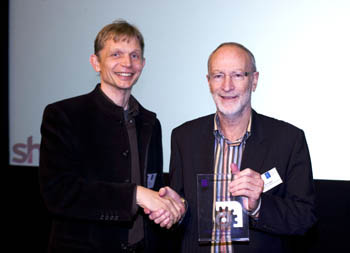 Professor Cooper and AnneHarm Barkema (left).
A Lancaster University professor has been presented with an inaugural Lifetime Achievement Award for his contribution to occupational psychology.
Cary Cooper, Professor of Organisational Psychology and Health, was presented with the award by the Division of Occupational Psychology, British Psychological Society, in London, 18 October 2007, at the Institute of Directors.
The Lifetime Achievement Award - which has been presented this year for the first time - seeks to recognise long-term contribution to Occupational Psychology practice. It is presented to an individual who DOP members believe has shown a dedication to the professional practice of Occupational Psychology over a sustained period of time, who has contributed to the growth of the profession, and who has inspired other practitioners through their work.
Professor Cooper was presented the award by Dell EMEA Vice President of Human Resources, AnneHarm Barkema.
Professor Cooper is one of Britain's most quoted business gurus and a world authority on stress and its management.
He is the author of over 100 books (on occupational stress, women at work and industrial and organizational psychology), has written over 400 scholarly articles for academic journals, and is a frequent contributor to national newspapers, TV and radio.
He is leader of The Sunningdale Institute, a virtual academy managed by the National School of Government, which brings the world's leading academics and industry figures together to advise on issues facing UK public sector organisations.
In 2001, Cary was awarded a CBE in the Queen's Birthday Honours List for his contribution to organizational health.
The Division of Occupational Psychology is part of the British Psychological Society. The Division has over 3000 members, approximately half of whom are Chartered Occupational Psychologists.