Medical Student Wins Army Cadetship
05/31/2009 22:52:16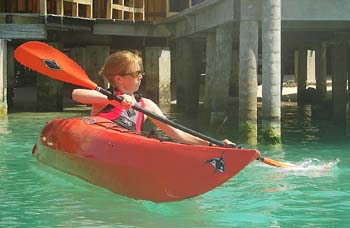 Kate Wright on her gap year with the Army
A medical student from Lancaster University has won a coveted cadetship with the Army worth more than £40,000.
Kate Wright, who is in her second year as an undergraduate at the Centre for Medical Education, is one of only 30 successful applicants from across the UK to be chosen for a highly sought after medical cadetship.
The Army will pay tuition fees, plus an annual salary of around £14,000 for the last three years of her degree. Many medical cadets also have the opportunity to do their electives and attachments at Army medical units either in the UK or overseas.
Originally from Stratford-upon-Avon, where she attended grammar school, Kate is looking forward to joining up.
"It's really good to get this chance go to lots of different places but I'm so set on joining the Army that the money is a bonus because I'd do it anyway. I'm interested in trauma-related surgery and I've always liked sports like squash and the gym so it's ideal."
Kate is sure about her choice of career after spending her gap year with the Army before university. This involved a rigorous selection procedure involving an Army Officer Selection Board as well as assault courses.
"During the gap year, I was in Germany where I was a Second Lieutenant with 32 Royal Engineers regiment. I was in charge of Adventurous Training and I organised R and R time so I was given responsibility early on. I also went diving in Belize with my Squadron and went to Mexico."
Once Kate graduates, she will go to Sandhurst for Officer training and must remain with the Army for seven years. Her first years of training will be spent in Military and NHS combined hospitals.