Medical Centre Plans for Lancaster University
08/17/2004 09:51:34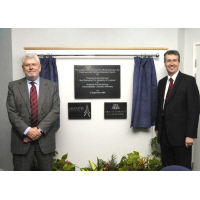 Lancaster University has earmarked funds to build a new Centre for Medical Education on the University's Bailrigg campus.
Speaking at the opening of the Royal Lancaster Infirmary Education Centre Lancaster University's Vice Chancellor Professor Paul Wellings said the University had made provision in its capital budget programme to fund the new centre, which would house offices, a lecture theatre and a human anatomy-teaching centre.
The timing of the development of the new medical facility will be dependent upon the outcome of a business case submitted to Higher Education Funding Council for England, which outlines the need for more medical students in the North West.
If the business case is approved the new centre would provide personnel and resources to support medical teaching delivered at Lancaster University.
This week Professor Wellings also announced moves to deliver further medical training to students in a partnership between The University of Liverpool's Faculty of Medicine and Lancaster University's Department of Biological Sciences.
The scheme would provide an alternative route into medicine for students who had a non-traditional education background or A-level subjects that would not normally qualify them for direct entry into medical school.
The news comes on the back of a series of existing collaborative programmes between Lancaster University, Liverpool University and Morecambe Bay Hospitals Trust and Professor Wellings said undergraduate medical education in Cumbria and Lancashire was already a reality.
He added: "I hope these two very specific announcements are clear demonstrations of our intent at Lancaster University to move forward with an agenda in medical education."
"I think you should anticipate a real wave of joint initiatives between Lancaster University and the Morecambe Bay Hospitals Trust in the near future."
The Lancaster University Centre of Medical Education will complement facilities at the £2 million RLI Education Centre - a new teaching facility launched this week. The RLI Centre includes a library, laboratories, tutorial rooms and lecture theatre with external video conferencing, which will enable link-up with Lancaster and Liverpool Universities.
Ian Cumming, Morecambe Bay Hospitals Trust Chief Executive, said "These announcements to fund and further develop Medical Education provision on the Bailrigg campus send a clear message of true collaborative working of both Lancaster and Liverpool Universities which will certainly be of benefit to the local population both by the provision of excellence in medical education and widening access opportunities for local people".
Photogaph Caption: L - R
Professor Kelvin Everest, Pro-Vice Chancellor, University of Liverpool with Lancaster University Vice Chancellor Professor Paul Wellings officially opening the new Education Centre at the Royal Lancaster Infirmary