Researcher wins Nokia accolade
02/10/2006 10:32:40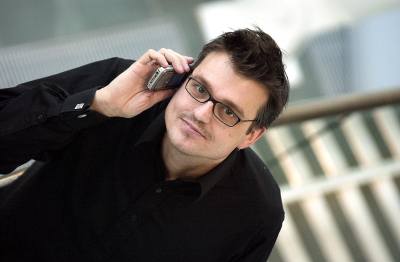 Dr Paul Coulton, head of mobile game research at Lancaster
University's Department of Communication Systems
Mobile phone giant Nokia has recognised a Lancaster University academic as one of the top mobile developers worldwide.
Dr Paul Coulton, head of mobile game research at Lancaster University's Department of Communication Systems, has been made a founding member of Forum Nokia Champion - a recognition and reward program that honours a select group of mobile developers from around the world.

Nokia has described Forum Nokia Champions as 'the outstanding talents in our community'.
The award was announced on, February 13, in Barcelona at 3GSM - the major mobile conference worldwide for manufacturers and operators. The award gives members global recognition as industry leaders as well as providing exclusive access to special technical services and events.
Dr Coulton said: "I am delighted to receive this award and I believe it is also testament to the talented group of researchers with whom I work. The collaboration between Nokia and Lancaster is enabling us to produce some of the most creative uses of this pervasive technology for businesses and consumers alike."
Lancaster University Communications Systems department has been working in collaboration with Nokia for more than three-and-a-half years –it initially started around the development of advanced learning and training materials for mobile applications development and has expanded into a wide variety of research into innovative mobile commerce systems and applications.
The advanced learning materials has resulted in Nokia's support of Lancaster University's MSc in Mobile Game Design and M-Commerce Systems - one of the leading courses on mobile applications development in Europe and the only course in the UK to teach mobile phone game design.
Nokia support for research comes in the form of the very latest phones and software development tools –often prior to their commercial release – which enables researchers to produce cutting edge- novel applications for mobile phones such as a mixed reality game PAC-LAN (www.pac-lan.com), which is helping shape a whole new genre in game development, and our live Premiership Football results service MFOOTY www.mfooty.com which provides anytime, anywhere information as it happens.
The Department of Communication Systems is nationally and internationally recognised by its contribution to different fields of Communication Technologies and provides academic research for InfoLab21 which is Lancaster University's world-class research, development and business centre in Information and Communication Technologies (ICT).