Lancaster Leadership Centre
04/06/2004 15:28:52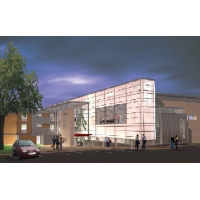 An important new player in leadership development will be the new Lancaster Leadership Centre, a £10 million world-class centre of excellence located in the heart of the region.
The Lancaster Leadership Centre will have an imposing physical presence in a new building now being constructed at the front of Lancaster University Management School (LUMS), and due to open in January 2005. Lancaster has the only six-star rated management and business school outside London, and is one of only two in the UK, the other being London Business School.
The new facility will bring together several groups of Lancaster faculty that represent a powerhouse of expertise and resources now accessible to the region's business leaders. They include:
· World-class researchers in the field of leadership, led by Professors Keith Grint -who has just moved to Lancaster from Oxford's Said Business School -and David Collinson, who moved to Lancaster from Warwick Business School.
· Experienced teachers and developers in the fields of project management, entrepreneurship, executive and leadership development.
· Multi-skilled faculty, consultants and advisers from Lancaster's Institute for Entrepreneurship and Enterprise Development.
Between them, this newly expanded team has already worked successfully with companies in the region as diverse as AstraZeneca, BAE Systems, BNFL, Royal and SunAlliance, Scapa Group, United Utilities and Zetex, as well as a host of smaller enterprises that contain the famous names of the future.
They also work in partnership with multinational companies all over the world, for example on the groundbreaking International Masters in Practising Management, which is led by Professor Henry Mintzberg and run in collaboration with INSEAD, McGill University, and several of Asia's top business schools in India, Japan and Korea.
As a 50% investor in the facility, the North West Development Agency will be able to take pride in a north west centre of excellence to match the best in the world.
Factbox
For further information about the Lancaster Leadership Centre, contact Professor Rick Crawley on 01524 593988 or e-mail [r.crawley@lancaster.ac.uk ]
Lancaster University Management School website: http://www.lums.lancs.ac.uk