How to predict the TV audience for football
02/01/2007 11:50:41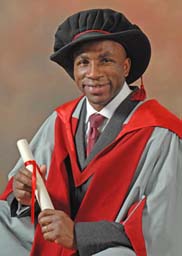 Dr Tunde Buraimo
Football fans who attend matches are more loyal than those who watch at home according to new research.
Traditional fans favour their team while armchair fans are more interested in a closely fought match.
That's the finding of research into the multi-million pound world of sports broadcasting, where the Premier League's domestic rights for the next three seasons are worth £1.7m, with another £625m to be earned from overseas rights.
Dr Tunde Buraimo looked at around 4,000 matches over 10 seasons for his PhD at Lancaster University Management School.
He has developed the first ever model to predict the size of the television audience for a match - information which is crucial both to football managers and broadcasters keen to attract advertising.
He said: "It's a lot more sophisticated than just thinking that a big name team will automatically attract a big audience. This also depends on the current performance of the team, their brand name, the quality and value of their playing squad, how close they are to the other team, what day of the week it is and how far up the table they are. In addition to revenues based on equal sharing and how well teams perform, each game broadcast on Sky TV earns a club in excess of £300,000 in the form of a facility fee so managers need to know how much they need to invest in playing talent to ensure their team's match is broadcast. And TV companies need to know what size of audience they can expect so they can secure advertising revenue."
In 2001, Premier League teams earned more from broadcasting matches than they did from fans at the gate but Dr Buraimo says there is a danger in catering exclusively to the TV audience.
"The power has shifted to the TV audience but the fans attending a match will always be important. I found that TV fans also value the quality of fans in the stadium to give the match atmosphere, so the football authorities should make sure that the stadium is quite full if they want a large television audience."
He said that the preference of television fans for a closely fought match was in contrast to fans in the stadium who are more loyal and want their team to win.
"If football is to continue to prosper, the Premier League needs to make sure that the majority of their matches are unpredictable and they can't afford to let a few big teams dominate but should instead try to ensure the teams are more equal."
Dr Buraimo suggests that a greater share-out of broadcasting revenue among smaller teams, who have a smaller support base and less opportunity of attracting revenue, will allow them to invest more in player talent and be more competitive.
His research was carried out at Lancaster University Management School (LUMS) which is one of only two business schools in the UK to have achieved the highest research category of six starred. It has also been judged Excellent for the quality of its teaching.
Dr Rob Simmons, who supervised the research, said the findings are important.
He said: "Tunde's PhD thesis, on the economics of sports broadcasting, breaks new ground in a number of areas highly relevant to stakeholders and organisers of sports leagues."