Nuclear Safety at the centre of new appointment
07/01/2009 15:06:30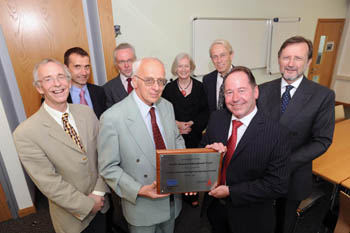 L-R Front Row – Professor Bob McKinlay, Roger Kemp, Michael Franklin, David Moorhouse (Chairman of the Board of Trustees and Chairman of the Lloyd's Register Group),
L-R Back Row – Professor Malcolm Joyce, Professor Colin Boxall, Professor Mary Smyth and Martin Widden
The new Chair of Nuclear Engineering and Decommissioning at Lancaster University says his appointment will help ensure safety across future nuclear programmes in the UK.

Professor Colin Boxall has been appointed to The Lloyd's Register Educational Trust (LRET) Chair in Nuclear Engineering and Decommissioning at Lancaster University, following the official signing of an agreement which will see the LRET provide £755,000 in funding over five years.

The Chair was created at the time of the UK Government's announcement that nuclear power is to form part of the UK's future energy mix.

Previously head of the John Tyndall Nuclear Research Institute and Director of Research at UCLan, Colin Boxall said: "We will be seeking to support the future research and training needs of the UK's nuclear industry, especially in the areas of decommissioning and low carbon energy provision. In particular, we will be concentrating on the risks associated with contamination and the high hazard legacies found at a wide range of nuclear licensed sites across the UK - some of which constitute the biggest sites of diverse risk management in the world."

Lancaster University has strong research expertise in nuclear safety and specialises in education surrounding nuclear engineering. The University has recently been awarded five fully funded studentships from the Nuclear Decommissioning Authority.

Professor Malcolm Joyce, head of Lancaster University's Engineering Department said:

"There are some fascinating and significant research challenges faced by the global renaissance in nuclear power and Lancaster is expanding its internationally-leading expert team in nuclear engineering and decommissioning to appeal to these. The appointment of Professor Boxall is a key achievement in this process that enables Lancaster to expand its Nuclear Engineering research capability that has been made possible through the profound generosity of the LRET."

LRET Director, Michael Franklin, said that the new Chair at Lancaster University is a major step forward in providing the skills that the UK's nuclear industry will need in the future: "Colin Boxall's appointment will see an improved focus on skills in the nuclear industry, providing additional high calibre people and will go a long way towards ensuring safety across future nuclear programme. We agree with the UK Government that safety in the nuclear industry is a priority and can be managed so that the risks are acceptably low. Lancaster University has a proven track record in undergraduate and post graduate education in this field, a broad research portfolio across a number of disciplines as well as strong links with the nuclear industry. We are very pleased to support this important post which will help make a significant contribution to the industry's future needs."

Professor Boxall has worked in research teams with interests in electrochemical engineering and materials science since 1983 (including 9 years at Imperial College). Since 1997, he has attracted £1.5M of research funding from EPSRC, EU and industry and has written over 90 refereed publications, invited book chapters and confidential reports. He is an EPSRC College Member and Chair of the EPSRC Photocatalysis Network's working party on Photocatalysis and the Nuclear Industry. He has given invited lectures to the EPSRC Actinide Chemistry conference, 2003 and the 10th Asian Conference on Solid State Ionics, Sri Lanka, 2006.

The Lloyd's Register Educational Trust was established in 2004. Its principal purpose is to fund advances in transportation, science, engineering and technology education, training and research worldwide for the benefit of all.