Prestigious Film Award For Students
12/30/2007 12:57:47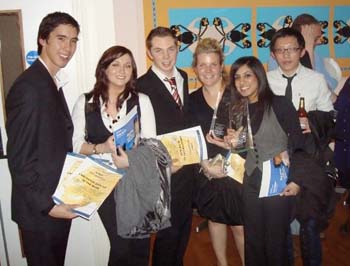 from left: Chris Smithson, Rachael Coates, Ben Barraclough, Mariana Mermet, Farzana Patel and Paul Wong celebrating at the award ceremony
Six students from Lancaster University have been chosen to represent the North West at the Royal Television Society Student Awards in London.
The students emerged as winners of the best factual programme for their documentary "Lancaster City FC: In The Blue" about the local football team. They will now go forward to represent the North West in the national awards ceremony in London in May this year.
The film, which can be seen on YouTube, may also be aired on Sky TV.
http://uk.youtube.com/watch?v=BJksF6D7Cjs
The judges, who came from the BBC and independent TV companies, said their documentary was "an atmospheric, well constructed piece, enhanced by the use of graphics and music."
The documentary was made by Chris Smithson, Ben Barraclough, Rachael Coates, Mariana Mermet, Paul Wong and Farzana Patel. They made the film as part of their course in either Media or Film at the Institute for Cultural Research, which they presented with one of the two glass trophies awarded.
Chris Smithson said: "It was a real shock when they called out our name and it's a great honour to get to the national finals."
The six minute film looked at the local club and its financial difficulties, including interviews with the club chairman Mick Hoyle, manager Barry Stimpson and the players. The students also filmed a league match against Scarborough and footage of the players in training.
Chris, whose ambition is to become a documentary film maker, said: "We wanted to do something local and that's why we chose Lancaster City FC. You don't hear too much about it compared with the big clubs in the Premier League so we wanted to look at local football and see how it's affecting the community. Everyone who works there is local from the groundsmen to the fans and there's a very positive view of its future despite everything."
Their film tutor Gary Bettinson of the Institute for Cultural Research said he was delighted with their success.
He said: "We're really pleased here and it's good news. It was up to them to choose a theme and decide how to make the film. They were a very dedicated, focussed group who worked well as a team and didn't argue about who did what."
Chris said he thought the film won because there was no voiceover and no special effects.
"We didn't try any gimmicks, we just let the story tell itself."
Equipment for the film as well as technical support was provided by the University TV Unit.
Their success follows on from another Lancaster University student film maker Danny Dewsbury, whose film "Slave Labour" won two awards at the National Student Film Festival earlier this year.