Students Praised For Donating To The Homeless
07/10/2008 13:55:35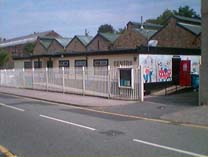 Lancaster and District Homeless Action Centre
The manager of a homeless centre has praised Lancaster University students for donating food and household goods to charity.
Students leaving campus at the end of term have donated unwanted items like kitchen equipment, clothing, bedding and tinned or dried food which is then collected and donated to Lancaster and District Homeless Action Service. Other local charities also benefit from the donations.
Islay Watson, Manager at LDHAS, said: "It's a massive help to get all this food from the University. It keeps us supported and bridges that gap between Christmas and Harvest Festival because at this time of year we are running low.
"And it's great to have all the kitchen equipment like pots and pans ready for when someone finds accommodation. It means they don't have to spend money they can't afford because we can provide them with all they need, from cutlery to bedding. Even the toiletries are useful because we have showers at the homeless centre."
The donations were first started by the Chaplaincy Centre but are now organised through Green Lancaster, a partnership between Lancaster University Students' Union (LUSU),Estates Facilities Management and the Universities Partnership Programme (UPP) aimed at promoting environmental initiatives.
Collection boxes were placed in porters' lodges for students to leave unwanted items such as non-perishable food items, bedding, crockery, cutlery, shoes, furniture and working electronic items. A volunteer from the Morecambe St Vincent de Paul Society worked hard making daily collections.
Tom Roberts, the University's Environmental Co-ordinator, said: "Lots of students are leaving at this time of year and can only take so much with them, especially if they're international students going home. The donations were collected on a daily basis because there was so much of it – one weekend we had five vanloads!
"I'm keen that this becomes part of the fabric of the University because all the donations have gone to a good home and have been saved from landfill."
Even old duvets are put to good use, with damaged ones donated to the rescue centre Animal Care in Lancaster where they are used as dogs' bedding.