Bacterial hope for droughted crops
02/08/2006 10:44:16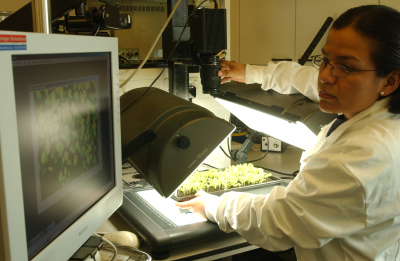 LEC scientist assessing effects of drought stress on young
seedlings.
Bacteria may be able to keep some plants growing through short periods of drought and save valuable crops from being lost.
New research from Lancaster University and the All Russia Research Institute for Agricultural Microbiology (ARRIAM) in St Petersburg has indicated that inoculation of crops with a naturally occurring bacterium found in soil may maintain plant growth and yield during short periods of drought.
Climate change, dwindling ground water levels and reduced river flows can mean that water is in short or intermittent supply in many crop-producing areas of the world.
Even in times of mild drought, crops send chemical stress signals from roots to shoots and leaves warning them to slow their rate of growth. This can result in a loss of up to 50 percent of the expected seed crop from the plants.
Research on pea and tomato crops has already shown some positive results. Now the Waitrose Centre – part of Lancaster University's Centre for Sustainable Agriculture - is set to carry out further research into the stress signalling mechanisms by which the soil bacteria may be able to keep shoots growing in drying soil.
The three-year project has been funded by £263,626 from the Biotechnology and Biological Sciences Research Council (BBSRC).
The principal investigators are Professor Bill Davies, Director of Lancaster University's Lancaster Environment Centre, and Dr Ian Dodd also of the LEC, working in collaboration with Dr Andrei Belimov of the ARRIAM.
Professor Davies said: "Our preliminary work funded by the Royal Society shows that these soil bacteria can keep plant shoots and roots growing at soil water contents where drought would otherwise restrict growth and development.
"Such results suggest that if we can keep roots growing to access more water and keep leaves growing, then we can continue to produce economically viable seed yield in drought-prone environments, or, importantly, reduce water use in agriculture without substantial yield penalty.
"This project will tell us more about the science behind this technology and as such the work will be highly relevant for agriculture."