Waitrose Partnership
01/27/2005 10:31:22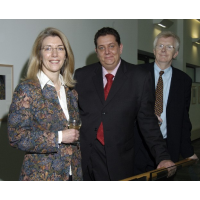 Waitrose Brings Fresh Focus to Food Industry with Launch of Centre for Sustainable Agriculture at Lancaster University
As part of its commitment to aiding the development of sustainable farming methods, today, Thursday 27th January, Waitrose is opening the first ever Centre for Sustainable Agriculture, at Lancaster University.
The Waitrose Centre for Sustainable Agriculture will provide academic research, training to professionals working in the food industry - including suppliers such as farmers - as well as an MSc in Sustainable Food Crop Production.
Launched in partnership with Lancaster Environment Centre (LEC), the centre will focus on issues such as improving food quality as well as reducing the impact of food production on the environment. It will also seek to develop new ways of integrating agriculture with regional development. The centre is one of five key areas identified by LEC as in need of academic research ranging from sustainable energy to water and chemical management.
The centre, housed in a state-of-the-art laboratory on the University campus, highlights the importance Waitrose places on improving food production for the benefit of its customers. The initiative is bringing together environmental researchers of international reputation to form one of the largest groups of its kind anywhere in Europe.
Waitrose has already delivered the first industry course in responsible agronomy at the University of Lancaster. The opening of the centre is further evidence of the supermarket's commitment to farming with consideration for the environment. Waitrose is dedicated to food and its provenance, ensuring the best quality produce reaches its shelves in an ethical manner.
The centre will be opened by Angela Megson, Director of Buying, Waitrose, who says: "We are delighted to be working with Lancaster University on another industry first. Waitrose prides itself on the quality of its foods, and the methods used to produce them. We look forward to working with our suppliers, growers and the expertise of Lancaster University."
Prof. Bill Davies, Co-Director of LEC, says: "This is a really exciting development for the university. The Waitrose Centre will take forward the need to refine food production in harmony with the environment."