Lancaster researchers working on next generation Internet
01/29/2001 17:01:59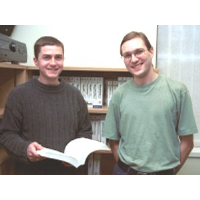 Lancaster University Internet researcher Chris Edwards has been awarded $50,000 from the largest company in the world, CISCO.
Dr Edwards and colleagues in the Department of Computing are working on the next generation of internet provision, because like phone numbers, Internet addresses are running out due to demand. Currently all companies and individuals have an IPv4 address.
Dr Edwards said: 'With approximately 350 million people using the Internet worldwide, the addresses available using IPv4 will not last forever. We are researching a new way of providing addresses, using a new protocol called IPv6. This new system will provide a large enough address space to supply 1000's of addresses per square metre of the surface of the earth.'
Lancaster University has been involved in cutting edge Internet research for about 4 years, working with computer giants such as Microsoft and CISCO. Lancaster also hosts the UK IPv6 Internet Resource Centre, where companies can get information about the new generation Internet.
Along with Dr Edwards, other members of the team including Dr Joe Finney and Dr Andrew Scott are looking at the transmission of voice and video over the Internet, and future Internet support for powerful hand-held mobile devices.