Delhi Students Volunteer with Lancaster University
01/19/2011 09:47:33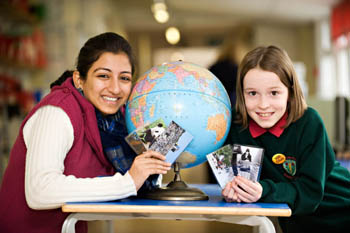 GDGWI student with a pupil from Lancaster Road Primary School
A group of students from India have been volunteering in two schools in North Lancashire as part of a partnership with Lancaster University.
The students hosted a question and answer session about life in India at Lancaster Road Primary School in Morecambe, where they also gave a demonstration of Indian dancing. They then visited Quernmore Primary School near Lancaster where they did block printing with the pupils and encouraged the children to write letters to pupils in schools in India.
 The eight students also met MPs in London as part of the partnership with Lancaster University to help promote student volunteering in India. The project has been funded by the University's India Centre and director Paul Devadoss joined students from Lancaster and India in London.
The students from the GD Goenka World Institute [GDGWI] in Delhi met MPs to discuss how the government can help tackle poverty and inequality in the sub-continent by mirroring a ground-breaking British scheme.
The meeting with members of the International Development Committee, which is chaired by Malcolm Bruce MP, came as the Department for International Development DFID launched a Commons review into the need to improve its aid programme in India, with an increasing focus on education.
The committee is due to fly out to India on a fact-finding mission later this month and offered to help forge links with major businesses and the Indian government to back the project.
During their stay in the UK, the students visited volunteering projects organised by Lancaster University Students Union's Involve project to see at first-hand how volunteering plays a vital role in aiding needy communities and inspire them to encourage fellow students to do the same when they return home.
The belief is that Indian students can have a positive effect on the country's problems by giving their time and talents to tackling poverty and helping slum communities and other social issues if time and funding is directed into encouraging them.
Lancaster University has the largest level of active student volunteering of any UK university. Last year, 1,200 of the University's students took part in volunteering projects to help communities across the North West of England.
During their stay in the UK, the Indian students will work to care for and reassure elderly people at a day care centre as well as encouraging primary school children to take part in volunteering projects and seeing for themselves environmental projects in action.
They also attended an event at The UK India Business Council (UKIBC) to highlight the growing importance international partnerships between the next generation of young leaders in the UK and India and showcase efforts being made to develop the enterprise volunteering skills of students.
A group of six students from Lancaster have just returned from the partnership scheme's inaugural trip to India, where they helped teach young primary school children in the village of Khaika, just outside Delhi, where the school only has one teacher, 126 pupils and no electricity.
They also taught women slum dwellers in Delhi how to make candles so they can earn a living.
It is hoped that this learning can be rolled out across Lancaster's other campuses around the globe and in doing so create an international summit, so that students from around the world can exchange ideas and promote the power of volunteering.
One of the Indian students, Pearl Dhingra, 23, said: "I think we have the potential to change lives. Already we have done things like set up free health checks for villagers who are living in or close to poverty, screening them for common diseases.
"But we need help to encourage more volunteers and to extend the project and this is where the UK government can help us, through funding and education."
Another student, Robin Singh, 22, from Delhi, explained that the Indian volunteers had been helping women in the slum areas of Chandannagar and Prempuri, who often give birth at a very early age, ruining their chances of education and employment.
He said: "We have set up self help groups so that these women can learn skills such as candle making, which will help them earn money and help them make positive changes for themselves and their children.
"We are here to learn about how we can do even more by mirroring what has been achieved at Lancaster University and using that as our inspiration."
Malcolm Bruce, LibDem MP for Gordon, North East Scotland, said: "Hearing the stories of what these young people have already done to help people in poverty and in need is truly inspiring and highlights how much education and funding can achieve if it is targeted in the right areas.
"This is something we will be looking at closely in the coming weeks and months to see how best the UK government can help communities to help themselves, with these inspirational young people being a great example of what can be achieved."
Ben Matthews, LUSU Involve director, said: "In India, unlike the UK, employment prospects are entirely based around exam qualifications, meaning deprived communities traditionally miss out on the help and talent which students can provide.
"As employers don't recognise volunteering as a positive part of development and take it into account when people apply for jobs, students don't embrace it.
"This project is about taking volunteering and community partnership and using it to create positive change,raising the profile and benefits of volunteering to both Indian students and employers alike and working on the ground to effect positive change."