University funds £40,000 worth of internships
02/11/2010 16:48:10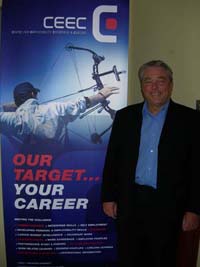 Norman Rea
Lancaster University has won £40,000 to fund 25 job placements for graduates as part of a Government drive to get young people into work. The graduate internship programme will support small businesses to take on a graduate intern. Research shows that one in four graduates are offered full-time employment in the business at the end of a placement.The funding from the Higher Education Funding Council for England will fund each internship by a recent graduate for up to 6 weeks at a rate of £6 an hour for a 35 hour week.
Norman Rea is Employer Services Manager for the University's Centre for Employability Enterprise and Careers (CEEC), where he has been researching suitable firms for internships.
He said: "This gives unemployed graduates real bargaining power to get their foot in the door and get that first taste of work experience that can grow into something more permanent. One graduate has already gained her first placement in publishing which is an extremely difficult area to get started in."
CEEC is also offering graduates practical assistance before, during and after their internship, including mentoring, pre-employment and interview training, and CV workshops.
John Wright, National Chairman, Federation of Small Businesses, which is promoting the scheme, said: "Graduates on placements in small firms will be able to gain invaluable work experience and develop real skills at a time when the job market is sluggish at best, and small businesses will benefit from the skills of this trained and available workforce."
The nationwide scheme is part of the Government's Backing Young Britain scheme.
The Prime Minister Gordon Brown said: "We are committed to supporting young people as they develop in their careers, which is why we have invested over £13 million in new internships, and in the training and mentoring of people taking them up. By Backing Young Britain and working with small businesses through these difficult times, we can help ensure that we secure sustainable economic growth for the future."