Sweet taste of success
12/01/2006 10:31:51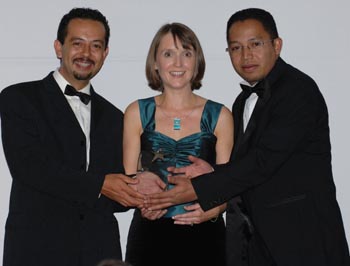 Malagasy's Tsiry Wilkinson (left) and Dina Rajaona (right) receive the Start Up Business of the Year Award from Gillian Bardin
A Lancaster postgraduate who founded the world's first Equitrade company is celebrating after winning a clutch of awards.

Dina Rajaona's company Malagasy Ltd produces chocolate made in his home country of Madagascar. The gourmet bars are stocked in Fortnum and Mason and Waitrose as well as specialist outlets.

The company has been named Start Up Business of the Year by the North West Society of Chartered Accountants as well as winning a silver medal in the prestigious Academy of Chocolate's awards. Ethical Consumer Magazine also rated their products as the most ethical on the market.

Dina, who gained an MSc in Accounting and Financial Management from Lancaster University Management School, said: "Winning an award has sparked a real confidence back home in Madagascar. No-one has ever known about the chocolate from Madagascar and the fact we got listed in Waitrose in such a short time is phenomenal. Now we can sell our Madagascan chocolate in some of the top shops in the world."


His firm has established the first ever added value trading link between the UK and Madagascar through Equitrade. Any profits are ploughed back into the country, which ranks among the world's 10 poorest countries.

The scheme differs from Fairtrade in that the final product is manufactured and packaged in the country of source, rather than simply exporting the cocoa beans for processing abroad.

Neil Kelsall, Managing Director of Malagasy, said: "Our Equitrade ethos simply means that we equitably share the added value we generate. Malagasy Ltd will not sell cash crops from Madagascar at pence per kilogram, so that other companies can sell them at pounds per kilogram in international markets. We do not think that is equitable.We're bringing the culture of Madagascar to the European market to create more wealth for the island."


The company earns international currency and uses it to equip local cocoa bean producers with know-how and equipment.


Dina said: "It was one of the ways to help fight the poverty in Madagascar. I think there are many ways in which you can contribute to where you come from."

The company's first product line – the award-winning Mora Mora and Sambirano 2006 fine chocolates – have already gained a reputation among chocolate connoisseurs. A range of other Malagasy products including coffee beans, spices, nuts and honey, are in the pipeline.The chocolate is available locally at the Single Step Co-Op in Lancaster or online.

www.malagasy.co.uk