Artwork Is Out Of This World
05/17/2007 10:32:54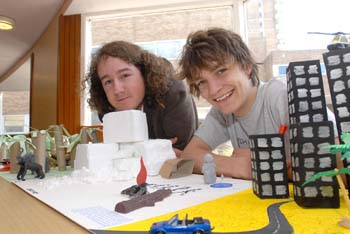 Chris Abell and Jamie Brook with their model of evolution
A wormhole hanging from the ceiling and a painting of a space nebula are among the first artwork produced by students studying the Universe as an Art.
The 25 artworks are on display in the Faraday Lecture Theatre foyer as part of a group art project where students were challenged to create artwork to illustrate the scientific ideas covered during the course. The Universe as an Art is run by the Physics Department as a Part One subject for non-science students who wish to learn about frontier science without the mathematics.

English undergraduate Peter Stones designed a boardgame based around the theme of black holes. He said: "The idea is to learn about science while you're having fun. You get rewards for answering questions about black holes correctly and I've played it with friends successfully. I like to have a broader knowledge and this will help me with my creative writing if I write about science fiction because it will be based on fact."
The Director of Studies for the Universe as an Art, Dr Chris Bowdery, said this was the first time his students had been asked to produce artwork on the course.
"One of the aims of the course was to allow students to understand some of the things we're doing in physics and science. People often see art and science as different, but there's no reason why if you're an artist and you paint a sunset, it should be a sunset on earth – why not a Martian sunset? We wanted to encourage people who are not scientists to think in terms of a bigger universe."

Fine Art student Claire Warwick and Geography student Karl Waterhouse designed a poster of the solar system from different perspectives. Claire said: "I've always been interested in space and planets and it's nice to come back to it even though it's not my main subject."
Other exhibits included posters entitled "Wanted: Dead or Alive – the Higgs Boson: reward – the Nobel Prize", and a children's book about the solar system. English students Sarah Hall and Elizabeth Aughton decided to suspend a wormhole from the ceiling of the foyer. Elizabeth said: "It was disappointing to have to give up science at school and this course has given me a greater understanding of the theoretical side. It's wrong to think that art and science are opposites."
Geography students Hayley Woolley and Laura Ross, who both made a display of Planets of the Solar System, agreed. Hayley said: "I was fascinated by knowing more about planets and space but scared of doing all the maths so this course was perfect."
History students Chris Abell and Denis Maxwell worked with Communications student Jamie Brook to produce a 3D time-line of the major evolutionary stages of Earth, complete with plastic dinosaurs and cardboard trees.
Chris said: "We wanted to do something different and this was fun to do. It also helped us to understand the huge lengths of time involved for evolution to happen."