Olympic coach urges businesses to go for gold
12/17/2008 16:19:59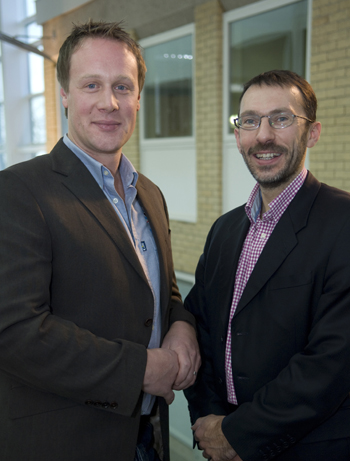 L - R Dan Hunt and Magnus George
One of the coaches behind the Olympic gold medal winning British Cycling Team inspired business leaders at Lancaster University this week.
Women's Endurance Coach Dan Hunt shared his tips on podium place-winning success with around 100 business owners and managers from across the North West at a Lancaster University Management School Masterclass on December 17.
Dan , one of the key players behind the scenes in indoor track cycling, was headhunted to join the British Cycling Team three years ago, in the run-up to the Beijing Olympics. He was part of the team that came home with an unprecedented medal tally - 8 gold, 4 silver and 2 bronze. Among his athletes was Rebecca Romero, the Olympic medal winning oarswoman who successfully transferred to cycling, winning gold at Beijing in the individual pursuit.
His presentation at Lancaster covered the transformation of the British cycling team from its 'also-ran' status at the start of the decade into world leaders. He explained the podium mentality and culture change necessary to reach the goal of becoming the best coaching team in the world by 2010.
The Masterclass is part of The Lancaster Forum, a business development programme designed by the Institute for Entrepreneurship and Enterprise Development to engage with SMEs.
Magnus George , Head of Strategic Partnerships and Policy in the Institute for Entrepreneurship and Enterprise Development, said: "This event was all about achieving excellence. At a time when many people are talking down the British economy it is great to hear first hand about a real-life success story which was achieved against the odds.
"Dan talked us through the team's journey to success and the culture that made that possible- the attention to detail, the hard work. It was really inspiring stuff and there are parallels there that everyone can relate to particularly in business."