Sculpture In Progress At The Peter Scott Gallery
02/02/2009 14:20:43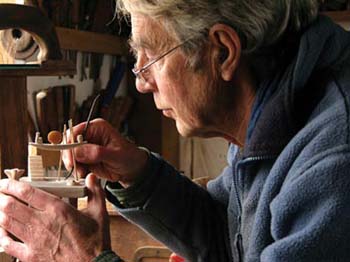 Artist David Gilbert at work
WHAT IS THE CASE
An exhibition of sculpture by David Gilbert
PETER SCOTT GALLERY, LICA, Lancaster University
A sculpture in progress for seven years is on display at the Peter Scott Gallery, part of the Lancaster Institute For The Contemporary Arts. So far there are 80 components of "What is the Case" by David Gilbert, of which 68 are on display at the Gallery until March 20.
The sculptures are almost exclusively made of balsa wood, a soft and vulnerable material, yet quite difficult to carve. This vulnerability made it necessary to protect the pieces in clear Perspex boxes. It soon became apparent that the boxes themselves were adding another dimension to the sculpture, and also helping to integrate the separate components into a single piece of work. Also on display is a selection of working drawings to accompany the sculptures.
David Gilbert has lived and worked near Aberdaron on the Lleyn peninsular, North Wales, for the past 11 years. Principally a sculptor in wood for 45 years, he has also made drawings and woodcuts. He has held three solo exhibitions, and has been represented in many mixed shows, including at the Fitzwilliam Museum, Cambridge, and the Hayward Gallery, London. Examples of his work have been purchased by the Scottish National Gallery of Modern Art, the Lancaster City Museum, the Manx Museum and Art Gallery, Douglas, Abbot Hall Art Gallery, Kendal, the Arts Council of Great Britain and the Scottish Arts Council.
The exhibition was officially opened by Robert Wand, a member of the Board of the Museums, Libraries and Archives Council.
Gallery open during exhibitions: Tuesday – Friday 11am – 4pm & late Thursday 11am-9pm
Free Admission Tel: 01524 593057 www.peterscottgallery.com
The gallery is located on Lancaster University campus in the Great Hall Complex at the end of the North spine.