Girls in Aerospace
01/20/2006 13:07:34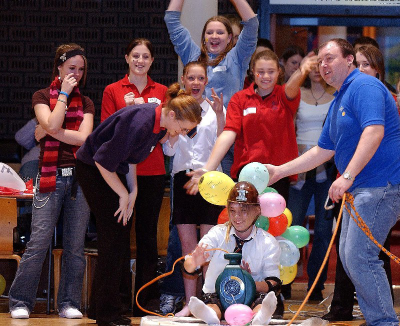 Hovercraft racing at last year's event.
Girls will get a glimpse of the world of aerospace engineering next week at Lancaster University when they design, build and race their own hovercrafts.
On Friday, January 27, 2006, female year ten pupils from across the region will come to the Great Hall, Lancaster University, to attend the free, interactive design-and-build event.
During the day they will find out more about engineering as a career and gain some practical experience through designing and building mini hovercrafts.
Last year more than 80 students from schools in Lancashire and Cumbria came to Lancaster University for the event.
Girls in Aerospace is funded by Aimhigher - North West and organised in partnership with the University of Manchester. It is supported by the University of Bradford, Lancaster University and Setpoint - Lancashire.
Aimhigher is a national project to encourage more young people into Further Education and Higher Education by a number of initiatives to increase awareness, aspirations and attainment. One particular focus of Aimhigher – North West is the raising of awareness of routes into Science, Engineering and Technology by encouraging and motivating young people to consider Engineering as a Career and Further Education or Higher Education options.