Emma Thompson Meets Lancaster Researchers
05/20/2010 12:57:26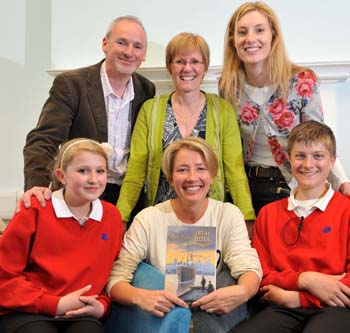 Emma Thompson with Dr Marion Walker and Dr Beccy Whittle (top right): photo courtesy of Mike Park
Emma Thompson has met researchers from Lancaster University who led a project about schoolchildren's experience of the Hull floods. The Oscar-winning actress was visiting the University of Hull where 46 children involved in the project were attending a writing event.
Also there were Dr Marion Walker and Dr Beccy Whittle from the Lancaster Environment Centre, who had earlier helped the children communicate their experience of the 2007 floods using storyboards, creative writing and group discussions and interviews.
The study, funded by the Economic and Social Research Council, the Environment Agency and Hull City Council focused on children from primary school age to teenagers.
The children enjoyed telling their stories so much that they were invited to join the writing workshop at Hull University, where they displayed their storyboards of the floods before an audience of five hundred people.
Dr Walker said:"Emma was so fantastic with our two participants - Jack Stelloe and Amelia Grimes - the way she chatted and joked around with them to set them at ease and then she went and chatted with ten other primary school children. They were so excited.
"It was a great opportunity for the students we've worked with to make links with the University. To be able to see their work being showcased on the big stage was a real achievement".
The children also asked questions about the actress' latest film – Nanny McPhee and the Big Bang – which they saw at a special screening before they quizzed her on her experience of writing, film-making and acting.
Dr Whittle said: "There was a real buzz about the event and the students were really excited about meeting Emma. They have been our inspiration throughout this project so it was great to see how Emma inspired them in return".
Professor Martin Goodman from the University of Hull, who organised the event, said: "Emma Thompson is one of the biggest names in British cinema and we are delighted that she has offered to share her time and expertise in order to nurture the creative talent in the city. Emma's love of children, and genuine enthusiasm for hearing what they have to say, inspires us."