Battle of Roses sports triumph
05/02/2006 10:58:25
Roses competitors - photograph courtesy of Will Johnston
Lancaster University triumphed in the annual battle of the Roses sporting challenge against York University.

The overall Score was 134 - 118 to Lancaster.
The two universities have entered into a sporting battle every year since 1964. Now boasting more than 40 different fixtures, nearly 2,000 athletes and around 5,000 spectators each year, Roses has grown to be one of the most popular sporting events in northern England and one of the biggest inter varsity competitions in the UK.
Athletic Union President Mike Allewell said: "The weekend overall was a success from my point of view with everything running fairly smoothly. As from a sportspersons view, the Lancaster win was a great end to the sporting year for most of the teams. Come win, lose or draw every sport was fiercely contested. This only makes the event the stronger with tough competition throughout. The weather over the weekend apart from Sunday helped add to the occasion with a record crowd on the banks around the rugby pitches on the Saturday. Even the damp Sunday weather didn't deter the spectators as all sports were watched by good crowds.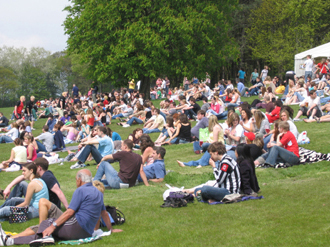 Competitors and Spectators - photograph courtesy of Will Johnston
Thank you to all those who helped run the weekend and good luck to Lancaster for 2007."