University Research Cameras Capture Stricken Vessel
02/07/2008 12:29:34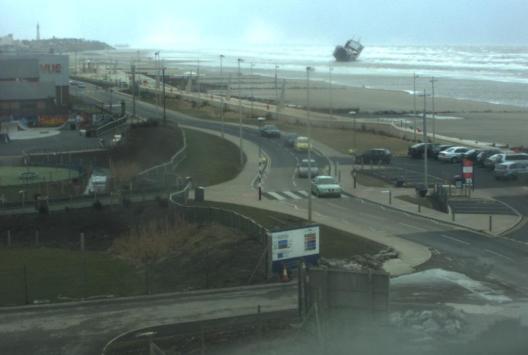 The ship caught on camera
Cameras installed as part of a Lancaster University research project have captured images of the stricken ferry Riverdance which was run aground just off Blackpool.
The ferry was stranded on a sand bank at Cleveleys, after being hit by a freak wave according to the crew on Thursday, January 31.
Photographs of the vessel were captured using ARGUS video cameras which automatically take images every 30 minutes during daylight (http://argus-data.wldelft.nl/sites/cleven/2008/c3/035_Feb.04/index.html).
The cameras – installed as part of an ongoing project between the University, Wyre Borough Council and Deltares (previously Delft Hydraulics) - are monitoring the beach changes in the front of a new seawall in Cleveleys.
Researchers are particularly interested in the shifting sandbanks – exactly like the one hit by the Riverdance.
Dr Suzana Ilic of Lancaster University's Geography Department said: "The fact that a ridge had formed on the beach stopped the ship from running into the seawall.
The Fylde coast has beaches made up of ridges or sand bars and runnels- channels running parallel to the shore. We are studying their formation and evolution as sediment is moved around by looking at time-lapse images. This is important for navigation purposes, beach stability, water quality, swimming safety.
From the images taken every 30min during the daylight and additional information concerning the rise and fall of the sea surface due to tides and waves we can derive the changing shape of the beach surface also know as 'topography contours'. This can be used to produce computer models of the beach that can provide valuable information to coastal managers."
The first study of sand ridges on Blackpool beach was made in preparation for the D-day landings on the Normandy beaches which are similar to Blackpool beach.