Dance Workshop for Lancashire Youths
02/27/2007 15:11:19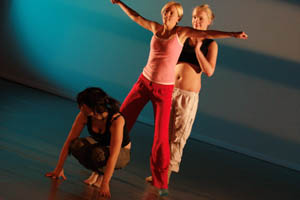 Union Dance Workshop
Young people from Lancashire took part in a three day dance workshop as part of a programme designed to boost their skills and help them into employment or further learning.
The workshop, which was held at Lancaster University between February 14 and 16, was led by internationally-acclaimed Union Dance - one of the UK's most accessible and exciting dance companies. Union Dance has a distinctive approach that mixes contemporary dance, martial arts and urban styles, in a way that is very appealing to a young audience.
The entire project, which was funded by Arts Council England and programmed by the Nuffield Theatre at Lancaster University, was also captured on film by Union Dance. The results will be seen later in the year on the university's new network of e-campus screens.
The young people, who had no previous experience of working with professional dancers, are currently signed up to the Entry to Employment Scheme at Lancaster & Morecambe College.
E2E is a learning programme primarily aimed at young people aged 16-18 who are not participating in any form of post-16 learning. It is designed to help them to develop their motivation, confidence and key skills, and to give them a range of opportunities to gain vocational knowledge, skills and understanding. The aim is that they will progress into a Modern Apprenticeship, further learning or a job.
As well as picking up some handy new moves for the dance floor, the group taking part in the workshops learned about teamwork, trust and planning.
One of the young people who took part in the Union Dance project said: "We learnt stuff without realising it. You got to the end of the day and you realised that you knew all this stuff but it didn't really feel like learning because it was so much fun."
A young man in the group, who had never danced before, now wants to learn more. Staff at The Nuffield Theatre are putting him in touch with Ludus Dance in Lancaster so he can begin classes.
Dr. Alice Booth, Project and Artist Support Officer for the Nuffield Theatre, said:" It has been wonderful to see such an exciting project happening here – especially with young people that have never been to the Nuffield before. There was such a great energy in the room, and so much interesting material being produced. I can't wait to see the edited film."
Mike Ferguson, of Entry to Employment, said: "The E2E team, staff and students would like to thank Lancaster University and Union Dance for giving us this opportunity. The group has really 'pulled together' for the project, which has been fun and challenging in equal measures. We hope that there will be opportunities for similar projects in the near future."