University Entrepreneur Promotes Recycling In Schools
12/01/2008 08:56:25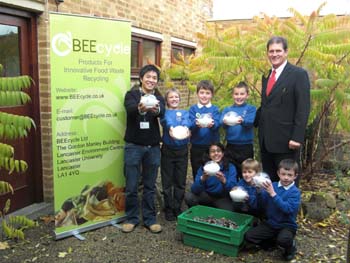 Kenneth Cheung with headteacher Len Guest (right) and pupils at Moorside Primary School
A headteacher has praised the "brilliant concept" behind an environmental teaching aid sold by a young entrepreneur based at Lancaster University.
Kenneth Cheung, 23, is the founder of BEEcycle Ltd which is one of the environmental start-up companies being incubated at the Lancaster Environment Centre. His company makes products to help people recycle some of the 6.7 tonnes of food waste in the UK and so cut back on the greenhouse gas methane which is produced in landfill. He has invented the OvO, a mini-ecosystem which allows children to observe the decomposition of food into soil in only a week.
Two schools – Moorside and Ryelands Primaries in Lancaster – have bought the OvO, which Kenneth aims to sell to schools nationwide. The headteacher of Moorside Primary School, Len Guest, said his school has bought half a dozen OvOs, which come with educational materials.
"This is worth buying because the whole idea is extremely well thought out. Usually composing at school means a bucketful of peelings but the OvO is clear and self-contained so the children can see the composting in action. It shows that recycling is not just an add-on but part of the natural world. Kenneth has thought through every aspect of the idea and he's very helpful and available for questions afterwards. "
The OvO comes with composting worms which live in the soil cavity which is covered by a clear dome to trap heat, creating the ideal temperature for the worms to grow and enabling the children to observe the whole process. The system provides oxygen for the worms through the air capsule and only needs to be refilled with water every three weeks because an absorbing wick creates a self-watering system.
Kenneth said: "The OvO is a great way to teach children about the breakdown of food waste into highly nutritious compost which they can then plant a seed in. It enables children to understand the food cycle and appreciate the biology and the importance of each stage. "
Once the waste is composted, the children plant a seed and watch their plant grow.
He said being based at the University with access to expert help has been invaluable.
"The University has been invaluable in getting my business off the ground. Computing staff at InfoLab21 helped me with the website, the engineers helped me with ideas on manufacturing and LUMS helped me with the business plan and marketing."
Kenneth, who is a biochemistry graduate, won the 2007 Business Creation Competition at LEC for his environmentally-focussed business ideas.