Barkers House Farm
08/10/2004 16:10:48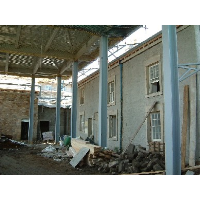 Building work to convert a listed farm building into new social facilities at the heart of Alexandra Park is gathering pace.
Barkers House Farm – comprising of a listed farmhouse, two-story barn, courtyard and a milking shed – had been largely unoccupied for some time before work began to transform the site into an innovative social and learning space for students. Cartmel College will also be located at Barkers House Farm.
When complete the £4 million development will include a food hall, bar, study area, common room and multi purpose function room as well as new office facilities for Cartmel, which will be housed in the Z barn – a former milking shed.
The farmhouse itself will house a study and computer space for Cartmel College's 600 students while one of the barns will be transformed into Cartmel's bar and JCR.
Architects FaulknerBrowns drew up the design. It makes innovative use of existing structures and materials, pulling the whole development together around the central covered farm courtyard - which will ultimately become the food hall.
Barkers House Farm lies at the heart of Lancaster University's Alexandra Park – a new residential development, which will provide accommodation to around 4,000 students.
Students will be able to use Barkers House Farm from the beginning of the new academic year.
It is due to be formally opened by HRH Princess Alexandra in early December.