Plaque unveiled at Lancaster home of wartime hero and philosopher
04/11/2011 11:55:24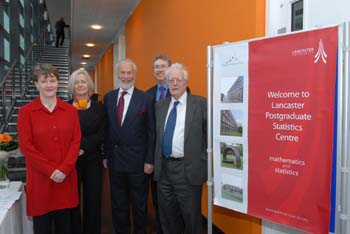 Conference delegates with family members (left)outside JL Austin's birthplace
A commemorative plaque has been unveiled at the Lancaster birthplace of the philosopher John Langshaw Austin, who played a key role in British intelligence during the Second World War. The centenary of his birth in 1911 was marked with a conference on his work at Lancaster University attended by academics from all over the world.
The University and Lancaster Civic Society organised the plaque on the wall of the house at 4 Hillside near Lancaster Castle, where the unveiling was attended by visitors to the conference along with members of his family.
His elder daughter Fanny Mitchell said: "It would never have occurred to him that he would be remembered in this way and it's a huge honour for the family. He was involved in organising the D Day landings in Normandy and he planned all the sites and how they would get up the beach."
JL Austin, who died in 1960, was awarded several honours for his work in military intelligence, including the OBE (military), the French Croix de Guerre and the U.S. Legion of Merit.
His sister Ann Lendrum said: "I remember him coaching me at cricket but he was such an unassuming man that you never felt you had to live up to him."
A brilliant student, Austin won a scholarship to Balliol College, Oxford and taught philosophy at Oxford in the 1930's.
Dr Brian Garvey of the Department of Politics, Philosophy and Religion at Lancaster University, said: "He was one of the most important British philosophers of the 20th century and remains very influential."
Austin's philosophical work focussed on language and sensory perception. In all his work, he stressed the subtle differences between the meanings of words, and the need to be aware what people are doing, not just what they are saying, when they use language. He championed the ordinary everyday uses of words over what he saw as the often highly artificial ways in which they are twisted and over-simplified by philosophers.
His work remains highly influential today, having been applied to such areas as linguistics, legal theory, and discussions of free speech. His writings are celebrated for their sparkling, witty style – the very opposite of a dry, academic style. He once said: "I might say 'that white dot on the horizon is my house', but this would not license the conclusion that I live in a white dot."
He was the son of Geoffrey Austin and a grandson of Hubert Austin, both of the architectural firm Paley and Austin, who designed many of the landmark buildings in Lancaster such as the Storey Institute, White Cross on South Road, and the Royal Lancaster Infirmary. The firm also made additions to Ripley St Thomas School, Lancaster Royal Grammar School, Rylands House, Hornby Castle and Leighton Hall.