UK Professor of Sociology exhibits photos at the World Cup Exhibition in Munich
05/18/2006 11:18:27
Professor Roger Penn from Lancaster University's Sociology Department has had photographs selected for the exhibition 'Football: One Game – Many Worlds' at the Munchner Stadtmuseum that opens on May 19th 2006. The exhibition is designed to parallel the World Cup this summer in Germany and examines football as 'more than a game' in the famous words of Bill Shankly.
The photographs were selected from Professor Penn's internet publications 'Cathedrals of Sport' (see link) and forms part of the 'New Directions in Visual Sociology' project which involves the Sociology Departments at Lancaster University and UCLA in America.
The pictures will be displayed in the four of the main thematic rooms at the exhibition.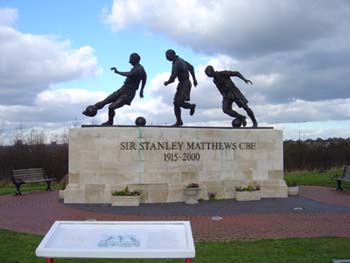 Statue of Sir Stanley Matthews, Britannia Stadium, Stoke City
The picture of the statue of Sir Stanley Matthews outside the new Britannia Stadium in Stoke is a centre piece of the 'Heroes' Room.
Professor Penn explained: "Mathews exemplified the classic working class hero : unassuming, modest , immensely talented and worshipped by fans."
The picture of the Middlesborough club shop exemplifies the new fashionability of football since the post-Hillsborough transformation of the game. The picture shows a child's bedroom decked out in the club's merchandise.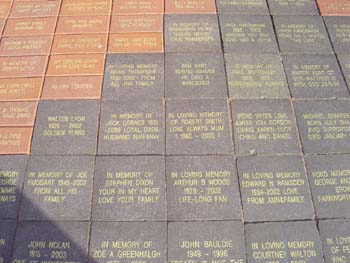 Memorial Brick Walkway, Reebok Stadium, Bolton Wanderers
The third exhibit is a photograph of the memorial walkway outside the main entrance to the Reebok Stadium ( home of Bolton Wanderers) and is located in the room that seals with football from 'birth to grave'. It shows memorial plaques to deceased Wanderer' fans interspersed amongst bricks naming famous players and their feats for the club.
The final picture shows the walkway built outside the Stadio Olimpico in Rome by Mussolini for the abortive 1940 Olympic Games. This comprises a series of Fascist slogans that are still visible when entering the contemporary stadium: home of AS Roma and Lazio. This picture forms a cornerstone of the 'Politics and Football' room and reveals the continued links between football and right-wing political movements in today's world.