Pupils' ambition skyrockets
12/20/2006 12:13:27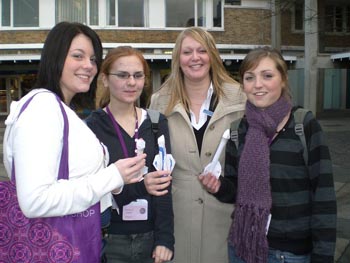 from left: Amy Tomlinson, Rebecca Steele, teacher Jill Bowes and Kathryn Thomason with their rockets
A teacher from Cumbria has praised a residential course at Lancaster University for giving her pupils the confidence to do a degree.

The twenty pupils from the National Academy for Gifted and Talented Youth enjoyed a three-day stay on campus including the chance to build and launch a rocket.

The youngsters, who are all in the top five per cent of the ability range, came from Stainburn School in Workington, Dowdales School in Dalton in Furness, Millom School near Barrow-in-Furness, and Abbeydale Grange School in Sheffield.


Jill Bowes, a science teacher at Dowdales, praised the three-day residential course for raising her pupils' aspirations.

"They're walking taller, meeting pupils from other schools and it's doing them a world of good. Some of these pupils have never been to any university and neither have their parents so it's their first taste of university life. It's great to raise their aspirations and make them believe they can go."

Her pupils at Dowdales agreed that the residential course has boosted their self-esteem.

Rebecca Steele, who is 14, said: "I've had to share my room with somebody I didn't know and normally at school I wouldn't have the confidence to speak to new people."

Fifteen-year-old Kathryn Thomason said: "It's been an eye-opener. It's made me want to come to university and I'd like to do something medical, either be a doctor or a vet."

Amy Tomlinson, who is 14 and from Stainburn School, said the experience has made her more confident.

"You get to meet loads of new people and talk to them and do things you don't usually do."

The challenging activities on offer during the three-day course were organised by the Department of Continuing Education and various academic departments.

Dr Steve Bailey from the Physics Department helped the pupils launch their rockets in Alexandra Square using compressed air.

He said: "We did a bit of physics and then we're finishing off with some enjoyment by firing the rockets and seeing how far they go."

Development Officer Mary Candler, who organised the event, said: "Some of the pupils who live in West Cumbria may find it hard to attend so we wanted to do as much as possible to encourage them to come.It's all about increasing their confidence and giving them stimulating and fun activities."

The packed programme also included History, Art, Music, Creative Writing and beginners Latin, as well as personal skills development, social activities and a final night Christmas dinner.Information about the National Academy for Gifted and Talented Youth can be found at their website www.nagty.ac.uk