Eco-Friendly Accommodation A Hit With Students
01/25/2008 16:58:57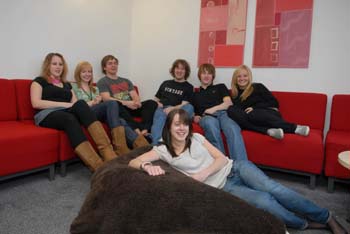 Students enjoying the open plan living space
Students who have moved into new environmentally-friendly accommodation on campus in January have given it the thumbs up.
323 new rooms for County College are now occupied as part of phase 4 of Lancaster's residences project built with partners UPP. This latest phase includes timber framed townhouses and flats built in a low waste and energy efficient process.
The wood used in the construction comes from sustainable managed forests, and the buildings are highly insulated to conserve energy. The scheme also includes solar thermal panels on the roofs of blocks of flats to heat water.
Inside, the buildings have a smart ventilation system with heat recovery which ensures a continuous supply of fresh air. Products such as paints, coatings and preservatives have been kept to a minimum or replaced with low toxic alternatives.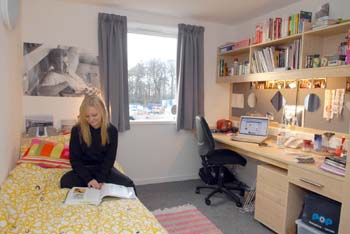 Fine Art student Emily Leonard in her new room
All the houses are named after wildflowers and the 12 students in Foxglove said they loved the big open plan living space, the new furniture and modern design.
All of the rooms built on campus as part of the residences project offer students high quality accommodation at competitive rents. The University is able to offer students in the new phase 4 accommodation even lower rents, due to careful attention to design, servicing and energy saving.
The next phase of the project continues this month with the County Main refurbishment of 187 rooms, to be finished this September. The building of 453 new rooms for Grizedale College will finish this summer for occupation from the academic year 2008/09.
When phase 4 is complete later this year, a total of 4348 new and refurbished rooms will have been built on the University's campus, making it the largest single university accommodation project in the country.