Indian Mela gives insight into crowd behaviour
02/06/2007 11:09:54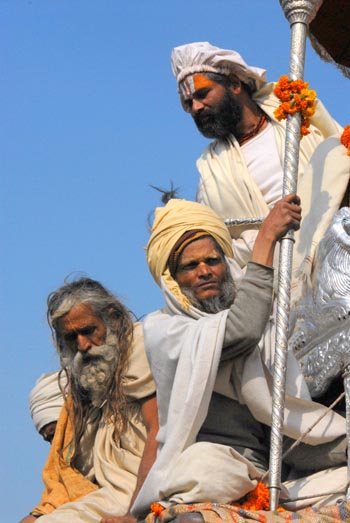 Photograph courtesy of Professor Steve Reicher
Researchers studying the largest single gathering of people on earth may have unlocked the secret of how large communities can live together in harmony.
Dr Mark Levine, from Lancaster University's department of Psychology, is one of a team of researchers working on a three year study investigating the largest crowd event on earth - the 30 million strong Kumbh Mela in Allahabad, Northern India.
The Mela is a month long Hindu festival held on the banks of the Ganges. The festival, which ended on Friday, February 2, provides a unique setting in which to study mass psychology.
Although it is often assumed that crowds behave badly, the researchers discovered that in the Mela people became more generous, more supportive and more orderly rather than less so.
The team's work overturns many longstanding presuppositions about crowd behaviour and collective living. It shows that, where people share a strong sense of common identity, then the close proximity of others becomes something that is beneficial rather than harmful. The researchers argue that their investigation of how those benefits come about can provide the key to understanding and creating successful communities.
The research project 'the collective experience of the Mela' is a joint enterprise between researchers from the University of Dundee, St Andrews and Lancaster University.