Lancaster Students rate university experience highly
04/24/2007 16:32:04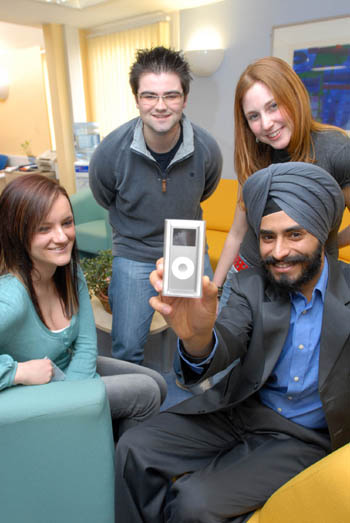 L – R, Joanne Bridge, Christopher Coxon, Victoria Spatoula, Kulwinder Ahluwalia who won prizes in a draw for entrants of the survey.
The first ever survey of Lancaster University's current second year students has revealed a high level of overall satisfaction with their university experience.
Over 80% of all students surveyed , rated their university experience as excellent or good. Students rated the college system, departments, accommodation and the campus setting as things that they particularly liked.
Car parking and sports facilities were areas that students would like to see changed.
The online questionnaire was sent to all second year undergraduates and all campus-based postgraduates on taught and research degrees.
Students were encouraged to give free comments and answer questions about the recreation facilities, opportunities to get involved in university life, college facilities, support services, health services, shops, catering, careers and learning spaces.
The top three features that undergraduate students particularly like are the college system, departments and the campus. The top three for postgraduates are the departments, the staff and the campus. The international students particularly value meeting students from other countries, the high reputation of the university and the departments.
There was little dissatisfaction expressed but areas with over 20% dissatisfaction included negative feelings towards the sports facilities amongst postgraduate students and careers advice. These two areas are currently being addressed by the university.
Differing views were expressed amongst the different groups of students surveyed. Undergraduate students felt strongly that each college should have a bar while this was seen as less important amongst research and international students.
The non-UK students thought that meeting people from other cultures was particularly important and UK students thought that Lancaster's college system was a major benefit.
All groups of students mentioned the welcoming and friendly atmosphere of the campus in their comments.
"Very helpful people all around in every department. Truly an international student Community thrives here" International PGT

"I love the collegiate system, it really made me feel like I belonged here….. The city itself is beautiful and just the right size for a student town." UK UG
"Good departmental support; great offer of leisure activities; interesting courses" EU UG

"The campus is very beautiful and convenient. It provides a very good environment for studies. It also provide students facilities to balance their life in both work and leisure." International PGT

"The whole campus has a very lively, friendly atmosphere." UK PGR

"Campus in general is very user-friendly and has most necessities! Accommodation is excellent!" UK UG

"Opportunity to be supervised by one of the leading people in my field. The people I work with in the research centre where I work are very welcoming and friendly." UK PGR

Professor Amanda Chetwynd, pro-vice chancellor for colleges and the student experience said: " This is the first survey of the students' views on their wider experience at Lancaster University and the range and quality of facilities and services that we have.
" I am delighted that students generally rate their time here very highly. Some of the less positive comments are helpful too as they show that we are investing in the right areas, such as improved sports facilities and improved careers services."