£50,000 Award for Excellence in Teaching
07/25/2001 09:05:22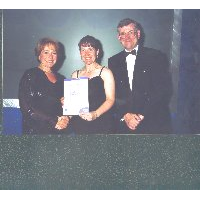 Susan Armitage, Learning Technology Development Officer, was one of 20 award winners who received a National Teaching Fellowship worth £50,000 in recognition of her excellence in teaching.
Ms Armitage was presented with her award by the new Minister for Lifelong Learning and Higher Education, Rt Hon Margaret Hodge, at a ceremony at Skinners Hall in London. Winners of the Fellowships will be able to use the £50,000 awards to further projects related to their teaching career and to benefit their work in teaching and learning.
The 20 award winners represented higher education establishments across the country and specialise in subjects from medicine to metallurgy and from music to microbiology.
The National Teaching Fellowship Scheme, launched in 2000, is part of an overall programme to raise the status of teaching and learning in higher education. The scheme is designed to recognise and reward individual lecturers who have demonstrated excellence in teaching and is funded by the Higher Education Funding Council for England and the Department for Higher and Further Education, Training and Employment in Northern Ireland.
Professor Sally Brown, Director of Membership Services at the Institute for Learning and Teaching said: "The standard of nominations from each of the 86 institutions that took part in the scheme this year was extremely high. The panel had a difficult task and they chose 20 outstanding teachers who can contribute powerfully to the learning and teaching community, working with the 20 fellowship holders of 2000."
Universities and colleges of higher education across the country and lecturers representing a wide range of subjects are encouraged to apply, and each institution is allowed to nominate one person. Judges selected university teachers who have a track record in teaching and a proven ability to inspire students to fulfil their full potential.
After receiving the award Susan said, "I am delighted to have been awarded a National Teaching Fellowship. I am also glad that the confidence shown in me by those who chose to put me forward as the Lancaster nominee has been rewarded! Although the award is given to individuals, every award winner made the point that their colleagues in their institution and in the wider HE community all had a role to play in their achievement and I am no exception. My thanks go to all my colleagues at Lancaster and elsewhere who provided statements of support for my case. I would also like to mention in particular Mark Bryson and Mike Cowie who make up the rest of the Learning Technology Group where I am based in HEDC. I am very much looking forward to starting my project which will focus on identifying best practice in the use and support of our virtual learning environment at Lancaster."