Lancaster Students Win Trophy at National Competition
05/06/2005 12:20:47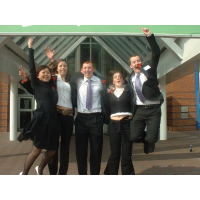 Nine students from Lancaster University have been awarded third place at a national competition of student social entrepreneurs - beating 9 other universities and well established SIFE teams.
Developing a young women's business and leadership network, helping set up Fair Trade cooperatives in Lancaster secondary schools and running a social business plan competition worth £25k in partnership with national foundation UnLtd, are among the projects that impressed the panel of judges - made up of business leaders from companies such as HSBC, L'Oreal, Cadbury Schweppes and Asda.
Among the youngest University teams at just 3 months, SIFE Lancaster won the first round league outright, knocking last year's winners out of the competition. The award was made on the strength of the team's social enterprise ideas, entrepreneurial spirit and potential for creating economic opportunity.
SIFE students spent an evening meeting other teams and senior managers from sponsor companies before a day of presentations judged by the panel of 20. Ventures are assessed on their impact in teaching disadvantaged individuals and communities about the global economy, entrepreneurship, personal success skills and business ethics.
This year's team leader, Mark Davison said: "Setting up the team and social ventures has not only been a great way of learning about entrepreneurship, applying skills we are learning and meeting a wide range of people outside the university, but it is also a rare opportunity to help create economic opportunity for others in the community. We are looking forward to growing the team next year".
The team has been supported by the Institute for Entrepreneurship and Enterprise Development in the Management School with the development of their ventures.
Nottingham took first place and will represent UK in Toronto in October. Second place went to City University.
The Lancaster team is currently registering as the UK's first student cooperative generating social enterprise spinouts, INSITE - inspiring social innovation through enterprise.