Peace Studies Lecture by Kosovan Government Advisor
02/06/2009 15:26:51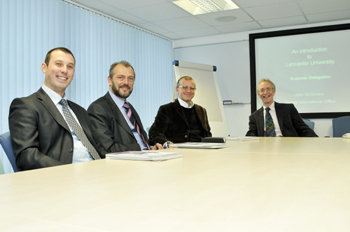 L – R Mr. Besfort Rrecaj, Dr. Pleruat Sejdiu, Mr. Edoardo Spacca and Deputy Vice-Chancellor Professor Bob McKinlay
There was a full house for a lecture by a Kosovan Government official visiting Kosovan students who are part of a prestigious EU study scheme.
Besfort Rrecaj, who is advisor to the deputy minister for Foreign Affairs, delivered a Peace Studies lecture entitled "Kosovo in International Relations after the Declaration of Independence." The lecture in Bowland North was hosted by the Richardson Institute for Peace Studies.
He was part of a delegation visiting a group of 19 Kosovan students who are at Lancaster University as part of the EU-funded Young Cell Scholarship Scheme. With him were Dr Pleruat Sejdiu responsible for Communications, Information and Training at the Agency for European Integration in the Kosovan Government and Edordo Spacca, project officer for the Sofreco training consultancy.
They had lunch with the Kosovan students, met staff and toured campus with Overseas Programme Officer Terry Bray who said: "They were impressed by the University, especially Lancaster's capacity to be flexible in providing degree programmes for the next round of students."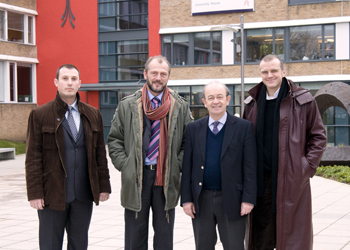 L – R Mr. Besfort Rrecaj, Dr. Pleruat Sejdiu, Mr John McGovern, Director of the University's International Office and Mr. Edoardo Spacca
The Kosovan Government has identified specific skills needs arising from their drive for EU integration and aims to train selected young professionals to postgraduate level in five strategic areas: Agriculture, Corporate Governance, Statistics, Energy and Environment.
Lancaster has been chosen to deliver the Statistics, Energy and Environment themes through masters programmes in the Postgraduate Statistics Centre and the Lancaster Environment Centre. On completion of their studies these students will return to work in the Kosovan administration. Just a handful of specially-elected EU universities take part in the scheme which is funding 35 Kosovan students this academic year.