Honorary Degree for Cary Cooper
01/21/2011 00:00:00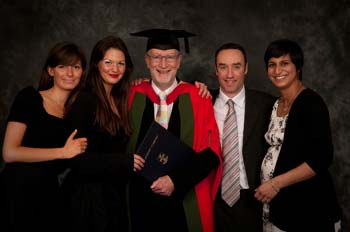 Laura Cooper, Sarah Cooper, Prof Cary Cooper, Dr Scott Cooper and Dr Devi Cooper
Professor Cary Cooper has been awarded an honorary degree from Sheffield University. The Distinguished Professor of Organisational Psychology and Health at LUMS was given an honorary DSc degree in a ceremony in the University's Octagon Centre.
Professor Keith Burnett, Sheffield University´s Vice-Chancellor, presented the degree following an oration by Emeritus Professor Tony Crook.
He praised Professor Cooper's "outstanding career as a psychologist with a formidable talent for communicating results and challenging preconceptions. He is one of the world's leading authorities on occupational health, with HR magazine listing him as one of the world's top five Human Resources experts.
"Cary Cooper has had a major impact on policy. He is an exemplar for all of us who seek to make the world a better place as well as to understand it more. For example, he was recently the lead scientist on the major government Foresight report on Mental Capital and Well Being. Having completed this important report he was active in promoting its key messages at last year's World Economic Summit at Davos, reflecting the long standing international dimension to his work with advisory appointments to the World Health Organisation and the International Labour Office."
This is the latest in a long line of accolades for Professor Cooper, who is a world-renowned expert on stress, women at work and industrial and organisational psychology. He was awarded a CBE in 2001 and in 2009 was elected Chair of the Council of the Academy of Social Sciences. He is the President of Relate and has recently been awarded the Times Higher Education Lord Dearing Lifetime Achievement Award.
He is also President of the British Association for Counselling and Psychotherapy, a Fellow of the British Psychological Society, the Royal Society of Medicine and the Royal Society of Health.