New Student Learning Zone
01/06/2009 10:50:55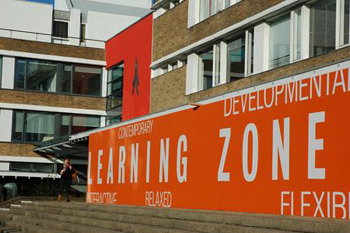 Learning Zone – Work in progress
Bowland College, in the heart of Lancaster University's campus, is being redeveloped to provide new facilities for students.
The refurbishment will involve the transformation of the current space into a state of the art Learning Zone. The project will also refurbish Bowland College facilities and bar.
The new open plan 848sqm space will provide an open and relaxed atmosphere available 24 hours a day, 7 days a week.
The facilities will include study booths for individual learning and areas for interactive group work. There will also be touchdown areas for students to plug in their own laptops.