The Last Supper at the Nuffield Theatre
03/02/2009 11:43:43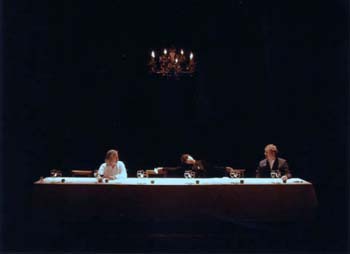 The Last Supper
THE LAST SUPPER by Reckless Sleepers
8pm Wednesday 4th – Friday 6th March
£10 / £7 concessions (limited seating – advance booking recommended)
The performance company Reckless Sleepers invite you to dinner, to The Last Supper, to sample the last meal requests of the famous and the not so famous. From Marilyn Monroe to Beethoven to prisoners on death row, this intimate and unusual performance serves a startling set of last statements, last meals and last minute scenarios to a limited audience of 39 people. Sit, sip your wine, and watch as last words are literally eaten before your eyes.
This close to the Spring 2009 Season at the Nuffield Theatre is one of the best pieces from the back catalogue of this UK/Belgian performance company. Last season saw company members pretending to be George Michael and Andrew Ridgeley of Wham! in The Pilots, and next year the Nuffield will be commissioning the company's new show, which will include a duet with a melting snowman.
There are a limited number of free tickets available for this performance for those aged 16 - 25.
www.nuffieldtheatre.com boxoffice@nuffieldtheatre.com Tel: 01524 594151