Albert Irvin Exhibition
01/08/2003 18:34:45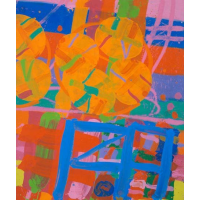 An exhibition of paintings and prints by Albert Irvin will be shown jointly at the Storey Gallery in Lancaster City Centre, and the Peter Scott Gallery on Lancaster University Campus. Irvin is one of Britain's most established and respected abstract artists. He has exhibited widely across the globe and was elected a Royal Academician in 1998. His huge, brightly coloured and joyous paintings and prints are an exuberant celebration of life. This exhibition will be a rare opportunity to see contemporary paintings of such a high calibre in the North West.
Albert Irvin is one of the older generation of British painters, including Gillian Ayres, John Hoyland and Basil Beattie, whose work has both continued and expanded the legacy of abstract expressionism. His work is in the Tate Gallery and many other public and private collections throughout the UK and in other parts of the world.
Irvin's vibrant paintings are composed of abstract forms such as circles, quatrefoils, lines and crosses, and feature bright and often contrasting colours. These pictorial elements and colours characterise a distinctive visual language through which Irvin explores 'the experience of being in the world'.
Irvin's work is fuelled by the questions "Can I make a painting about human experience without having to depict appearances? Can I paint the human spirit rather than noses and feet? Can I reveal the splendours and agonies of life through space, colour, shape, line, confrontation, rhythm and inflection in the paint?".
As well as having metaphorical significance, his works evoke an immediate emotional response in a similar way to music. Irvin's paintings are created through a process of invention and discovery with no foreseen outcome, in sympathy with the way music is composed through improvisation.
Irvin lives in London and works at his studio in Stepney Green in the East End. His paintings are informed to an extent by the experience of moving through a busy urban environment. Works are often identified by street names, although they are not 'of' a particular place, a street name is chosen because its meanings or associations suggest the character of the work.
Irvin was born in London in 1922, and studied at Northampton School of Art after being evacuated from the capital at the onset of World War II. He was conscripted in 1941 and served as a navigator in the RAF. After the war, he studied at Goldsmiths College, where he later taught between 1962 and 1983. His first solo exhibition was held at 37 Gallery in Edinburgh in 1960. Irvin's 80th birthday was marked by a special exhibition of recent screenprints at Advanced Graphics London in March 2002. His painting St Germain is featured on the Tate's 2002 Christmas cards.
The prints in this exhibition are courtesy of Advanced Graphics London and the paintings are courtesy of Gimpel Fils, London. Many works will be available for sale.
Irvin is pleased to return to Lancaster after exhibiting at the Peter Scott Gallery in 1991. Irvin will be giving a talk about the exhibition and his work on Wednesday 19 February at 7pm at Lancaster University (£2; free for students with NUS). Please call either gallery to book or for details.
Peter Scott Gallery, Lancaster University Campus
Open: Mon - Fri 11am-4pm & late Thurs 6-8.30pm
Admission Free
Exhibition runs: 20 Jan - 21 March 2003.
Storey Gallery, Meeting House Lane, Lancaster City Centre
Open: Mon - Sat 10am-4pm
Admission Free
Exhibition runs: 18 Jan - 22 March 2003.
Web sites: www.peterscottgallery.com www.storeygallery.org.uk