Dansarota at the Nuffield Theatre
02/08/2005 09:53:14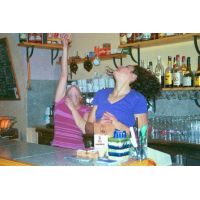 On Tuesday 22 February 2005, Dansarota will be visiting the Nuffield Theatre, Lancaster University for the first time with their show Barred. This is a change to their previously advertised performance piece Dual Control.
Performed entirely in the bar area of The Nuffield Theatre, Barred presents us with an ironic and humorous insight into the lives of two bar workers played out in front of their customers. As the vodka starts to flow, each section takes a comical look at the different reasons for drinking: loneliness, broken heart, drowning and forgetting.
Set to live bass guitar by Steve OJ and the nostalgic music of days gone by, this eccentric, entertaining and touching performance will leave the audience on a high.
Dansarota is a dance-theatre company co-founded by British choreographer and performer Emily Burns and Catalan choreographer and performer Emma Teixidor. They work with film, text, movement and design and the influence of the two cultures gives the work a unique identity of its own. They are known for their eclectic and unusual movement, which shifts from the intense to the humorous, whilst presenting moving images that truly resonate.
Tickets: £8 / £5 concessions, Fax: 01524 39021 Box Office tel: 01524 594151 (24 hour answerphone) Box office text: 07810 082832, Email: boxoffice@nuffieldtheatre.com