Sunday Times Ranks Lancaster Top in North West
09/25/2008 14:42:39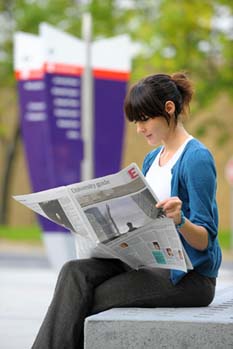 Newspaper league tables rank Lancaster University highly
The Sunday Times Good University Guide 2008 joins three other national newspaper league tables in ranking Lancaster University the top institution in the North West.
Coming 20th out of over 120 institutions overall, the Sunday Times flagged up Lancaster as being in the top 20 for research ( Lancaster is ranked 9th in the UK for research quality ) and having a low dropout rate.
The Guide also makes reference to Lancaster's world-wide reputation . Lancaster comes 147th in the Times Higher Education 2007 World rankings and 201st jointly with Bath, York, St Andrews and London School of Economics in the 2008 Shanghai World ranking.
The Guide says: "Still the leading University in North West England, Lancaster has built a formidable reputation in a little over 40 years. With 19 subjects rated excellent for teaching, students have every reason for consistently raking the university among the highest for satisfaction with their programmes."
Other league tables published in 2008 including The Times Good University Guide, where Lancaster was one of the biggest movers, and the Guardian and Independent league tables place Lancaster top in the North West. The Guardian and Independent also rank Lancaster in the top 10 and 12th nationally .