Lancaster student wins Western Australia Scholarship
09/23/2003 15:50:54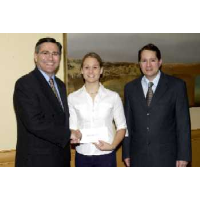 Danielle Jackson, an Ecology student in the Department of Biological Sciences at Lancaster University, has been awarded a scholarship that will enable her to explore Western Australia's natural wonders through the Gerald Frank Brown Scholarship Trust.
This annual scholarship, which began in 1999, was established by the then Agent-General Bill Hassell with a trust fund bequeathed by Mr Gerald Frank Brown to the Western Australian Government, and aims to assist British or European exchange students to visit Western Australia to gain knowledge of the State.
The Premier of Western Australia, the Hon. Dr Geoff Gallop MLA presented Danielle with her scholarship at a ceremony on 22 September at Murdoch University, Perth, Western Australia. Danielle is spending a semester on exchange at Murdoch University and her scholarship will enable her to gain more of an understanding of Western Australia's environment.
In paying tribute to the late Gerald Frank Brown, the current Agent General Mr Robert Fisher said: "His generosity has enabled a number of students from the UK like Danielle to visit Western Australia where they have had the opportunity to make new friends and to benefit from a range of different life experiences."
Danielle said, "I hope to experience the natural beauty found within Western
Australia, of places such as Shark Bay, the World Heritage listed Marine Park, the tree top walks in tall trees and the contrasting rugged landscape of the Pilbara Gorge country."